Ghandi Sativa
date
Nov 27, 2002
Origin
Sativa, mainly Haze hybrid. Bio grown. Cannabis Cup entry 2002. (Yes Vinny, they spelled it that way on purpose!)
Look
Varies from dark to lighter green. Slender saber-sword leaves. Light orange hairs "populate" a crystal covered "budscape". The resin droplets shine brilliant in strong light. Check out the detailed manicure and "firm" shape; this beauty could act as buddy double in a film.
Smell
A bit green and long-grass scented as the bag is opened, but this gives way to a more "sudsy" soapy, piney scent, as if Christmas trees were being ground up and then spread over a dusty street that has just been cleaned by sweepers. True to Haze's nature, the familiar cactus-wildflower smell is released upon lighting of the joint.
Taste
Slightly sweet, although not quite "candy", this one has a breath-mint taste that is sharp and very similar to the smell, almost "bitter" at times with the Haze coming through strong and proud. As the joint burned down, it became "woodsy" as the resin accumulated. This added more depth to the taste and made a fat spliff and a cold beer delicious comrades.
Effects
Avoid arguments if you've been smoking this one; everything seems so clear in your head but when you go to speak, you make little sense to people who haven't smoked with you. In fact, you just smile and space-out as you are called a jerk in the middle of De Bijenkorf department store. Why you (accidentally) said "It's so crowded, you would be better on your own here; I should have kicked it with the boys and watched Ajax play…" is a mystery that only Ghandi can answer. You don't ALWAYS have to say the first thing that comes to mind!
Overall
Besides the way you lose track of time, stare into space and say stupid things, you really should completely enjoy this very lovely herb. Really nice and fresh, obviously well cared-for from seed-to-weed. There are a lot of fine Hazes entered in the Cup this year, but I think that Ghandi's Sativa will have a lot of satisfied peaceful tokers.
want to review? create an account
Purchased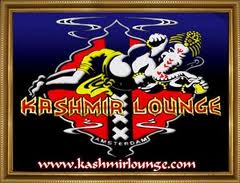 Kashmir Lounge
Jan Pieter Heijestraat 85
Amsterdam
shop profile
| HOME | SMOKIN' SECTIONS | TOOLS | COMMUNITY |
| --- | --- | --- | --- |
| | | | |