The Red Light Districts Best Smoker Friendly Bars
10 July 2014
Sex, Drugs and Rock 'n' Roll - Or just a fat joint and cold beer in the Red Light District. Here are a few of our favorite smoker friendly bars in Amsterdam's Red Light District. All have allow you to smoke weed and hash indoors, in a designated smoking room or on their terrace.
The Red Light District is full of bars of types, shapes and qualities. Obviously some of much better than others, and while some don't allow smoking, there are many smoker friendly bars in Red Light District. Take a walk around the Red Light District and maybe do some "window shopping", then head to a bar and enjoy a smoke and a drink - but which bar should you go to?
The Smoker Guide is here to help, so here's our pick of the Red Light Districts best smoker friendly bars:
Wonder Bar 2 - Lange Niezel 5 (By the Stones)
After the success of the first Wonder Bar, the charismatic owner decided to open a second version, right in the heart of the Red Light District! Completely re-modeled and featuring a well equipped smoke room and the trademark shishas, this is one place that makes for a great stopping point during a "pub/coffeeshop crawl" or "window shopping" session. Stop by and find a bit of the old spirit of the city that is so hard to find these days: staff who are happy that you are visiting! Take a look at their profile page for more info.
Pinockio - Warmoesstraat 5
Because of the opening hours, this cool little bar at the top of the Red Light District is perfect for "late nighters". The bar is totally smoker friendly so you can enjoy a toke while you watch live sports, play pool or just kick it at the bar and listen to music or talk with the bar staff. This place is "LAST CALL" for many locals cos it's open later than most other bars in the area.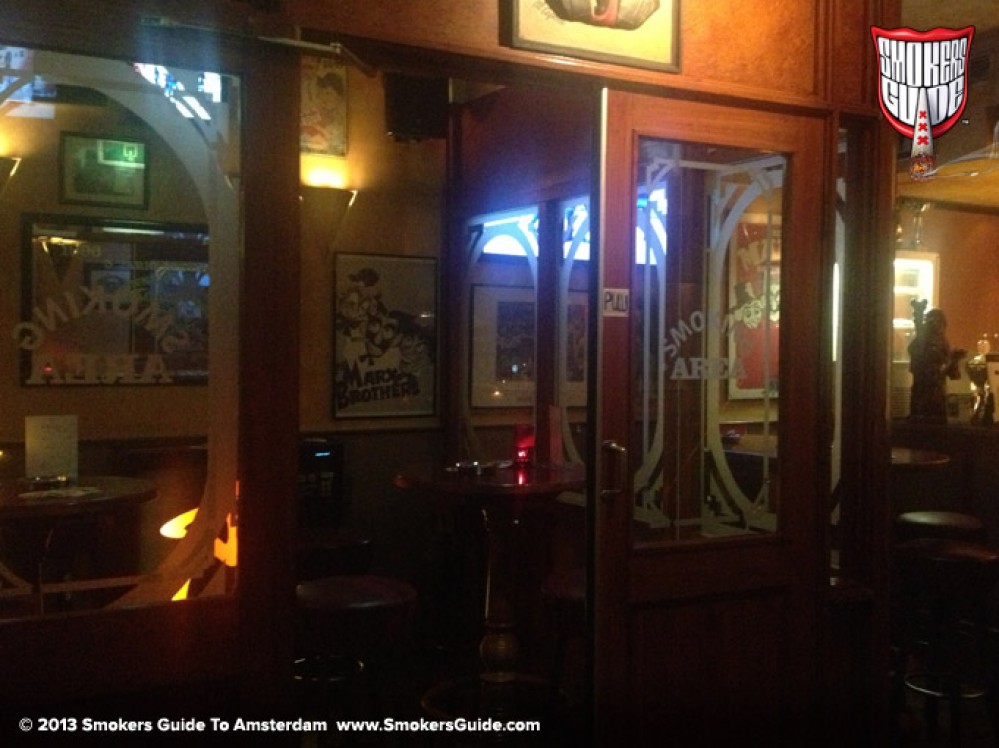 Funny People -
Nieuwe Brugsteeg 24
Located just at the top of the Red Light District not far from Centraal Station. Funny People was once a great coffeeshop which has now become a bar with a great smoking room! You may not be able to buy weed here anymore but you are more than welcome to smoke it. Funny People still has a great atmosphere much like it did when it was a coffeeshop. They also serve food!
Take a look at their profile page for more info.
Nes-Café -
Nes 33
Another ex-coffeeshop who switched over to an alcohol bar in 2007, but they are still very smoker friendly. The Nes-Café just re-opened after some renovation work(July 2014). This place is popular with both locals, expats and tourists! You can always expect a friendly atmosphere. Outside you'll find a small seated area that's a great place to see, enjoy a smoke and a drink, and watch the world go by.
You can find reviews and more info on the Nes-Café profile page.
De Buurvrouw - St. Pieterpoortsteeg 29 (By the Nes)
Located near smoker-friendly Nes-Café is this really cool (music & crowds) night bar. Local bands, alternative rock and DJ's. Fun!
Café The Tribe - Warmoesstraat 79
Another cool little bar on the Warmoesstraat is The Tribe. It's not huge but it is a good place to hang with a small group or if you just fancy talking with the bar staff who tend to be friendly and up for a laugh. Feel free to skin up and listen to a wide variety of music or check out what's showing on TV.
Smoking Bull - Lange Niezel 13
When a shop willingly chooses for their alcohol license instead of their weed license, you KNOW it is a good place to drink! One of our favourite "ex-coffeeshops", Smoking Bull is a hot spot in the Red Light District. With room for large groups, a big screen, a top sound-system and a friendly staff "the Bull" is smokin! There is a vapouriser and house bongs left-over from the good old days and they are also experimenting with snacks. Take a look at their profile page for more info.
The Bottle - Oude Brugsteeg 25
This little bar has become a staff fav for late night "last calls" after the coffeeshops have closed. They have a free drink offer too!
Want to head out of the Red Light District and find other smoker friendly bars in the city then take a look at The Best Smoker Friendly Bars in Amsterdam. For more info and discounts take a look in the Smokers Guide to Amsterdam book! Pick up a copy today from our shop!
| HOME | SMOKIN' SECTIONS | TOOLS | COMMUNITY |
| --- | --- | --- | --- |
| | | | |