Write reviews and earn rewards!
New here? Create an account.
Earn 50 points by signing up with Facebook.
* We won't use your private info without your consent. See terms.
facebook signup/login
Love to Score A Few Bags!

Good Ganj Is Worth the Wait

Review Barney's

Ever visited one of the Barney's shops? Let us know your opinions.
How To Roll A Cone Joint with Filter Tip - Step By Step Guide
How To Test The Quality Of Hash
Want to know how to test the quality of hash? Judging hash aka hashish can get as complex as judging wines! Here's one way of avoiding the cannabis dregs.
Find out more

NorCal Medical Cannabis Cup Results 2015
The winners of the High Times NorCal Medical Cannabis Cup are...
Read more

420 Day Celebrated by Millions around the World - But what is 420 and what are its origins?
420, or 4-20, or 4/20, also called 420 Day or Cannabis Day is day of celebration for the Cannabis culture. Many people will gather together on this day to...
Read more

2014 Michigan Medical Cannabis Cup Winners
The results of the 2014 Michigan Medical Cannabis Cup.
Read more

Dripping with resin, you might...

andrewpyrah wrote about
Rollex OG Kush ( The Green)
Popeye's Muscles at Work

zirk.amsterdam wrote about
Popeye's Cream ( Popeye's)
Ambrosia

andrewpyrah wrote about
Caramella Cream ( Barney's)
Reeking Up The Room

andrewpyrah wrote about
OG Reek'n ( Green Place)
Brings back old memories.

zirk.amsterdam wrote about
Afgaan Pollen ( Rookies -)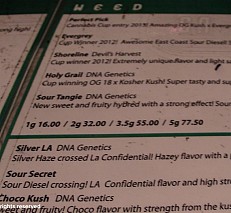 How To Find The Best Weed In Amsterdam - The Smokers Guide Weed Test
Looking for a few good tips to examine your buds for any issues? Take a look at the Smokers Guide Weed Test.
Let me see
| HOME | SMOKIN' SECTIONS | TOOLS | COMMUNITY |
| --- | --- | --- | --- |
| | | | |