Featured
Munchies

Valentine's Day Cannabis Rice Crispy Treats - Recipe

They say couples who get stoned together, stay together ;-) For this year's Valentine's Day, gift your partner a yummy, sweet, high inducing Cannabis Rice Crispy Treat dessert. Be careful with dosing, as cannabis edibles are known to hit people...
Read more

Top 5 sweet foods for the Amsterdam...

The Munchies: a term used by stoners to describe incredible hunger caused by cannabis consumption. We rated the top 5 sweet foods to reach for when the munchies hit you hard!

Cheap Pizza, Wok Kitchens, Falafels &...

Walk around the city streets and you will find copycats all over the place! From €6 pizzas and wok kitchens, to Argentinian steakhouses and falafel bars, Amsterdam culinary catfight...

Munchie Time! Amsterdam's Best Stoner...

When you're stoned, the oil and batter scent that would normally make you slightly ill becomes an alluring "nectar" that draws you near the fryer. Those normally of sound minds (and...

Top 5 SG Amsterdam Munchie Spots

If you are sick of the big chain supermarket selling low quality food on every corner, there are some great small shops and markets offering fresh, real food.
spotlight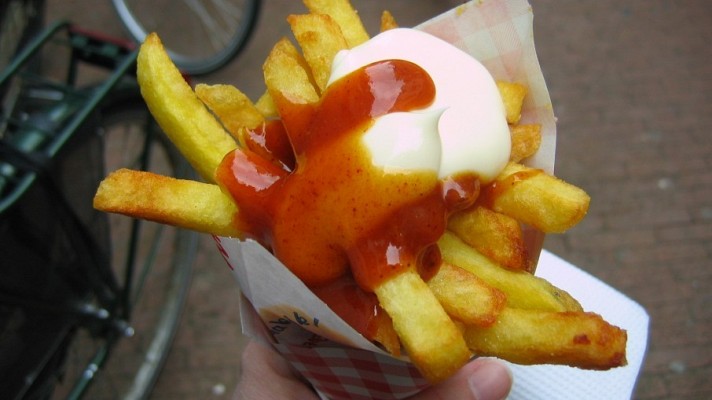 Munchies
Snackbars & Vending Machines - Fast Food Amsterdam Style
Dutch fast food can be an adventure in "munchie-land". There are more than 50 different snacks available, all with ONE thing in common: a deep fat fryer! Here are a few of the fast food favorites available in Amsterdam... Let me see


Fancy a joint with your meal?

Canna Ice Cream.... yummmm
| HOME | SMOKIN' SECTIONS | TOOLS | COMMUNITY |
| --- | --- | --- | --- |
| | | | |