Melana
date
Nov 12, 2003
Origin
Indian
Look
Very dark and "fudge brownie" looking. Interior breaks apart like a moist chocolate cake while the outer layer is looking glossy and smooth. Cut into thin shoestring sized pieces, they bend apart easily, and crumble up for a joint like a soft polm. No need to roll these into "spaghetti" for your joint…
Smell
Before you burn it, this stuff smells like a soft smoked or grilled vegetable that has been marinated in soya sauce. A bit "charred", like plant material that was baked a on a barbecue. There's a peppermint smell in there too. Finally, when ya burn it, the scent goes to more of a sugary-chocolate scent. The room fills with a nice, heavy smoke.
Taste
Leaves a big drip on the back of the throat. The flava is very peppery and softly herbal-spicy. You definitely need to have an ice-cold drink nearby to wash it down!
Effects
Nice and relaxing, you just chill out wherever you happen to be smoking. Your eyelids get a bit heavy, and your vision gets a lil' blurry. A buttery feeling "greases" your muscles. This could be some good gear to use if you have a medical condition. NateK called it "instant massage" hash.
Overall
This was a very "clean" sample of dark. Nice taste, relaxing FX, and a good price as well. They've also got a cheaper (like nearly 75%) Melana Vingers (fingers) if this "creamier" version is sold out and/or you prefer a softer high. I went with the more pricey gear and was pleased; even Smokers Guide Friend Mriko would like this one! ;o
want to review? create an account
Purchased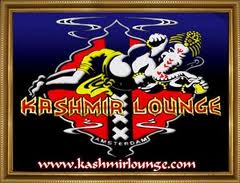 Kashmir Lounge
Jan Pieter Heijestraat 85
Amsterdam
shop profile
| HOME | SMOKIN' SECTIONS | TOOLS | COMMUNITY |
| --- | --- | --- | --- |
| | | | |