Amsterdam is the original "Disneyland" for adults and a hippie mecca since the early 1970s. Until recently, it was the only place in the world where you could purchase and smoke marijuana openly. Its liberal laws, including the tolerance of soft drugs and hallucinogenic mushrooms (now truffles), legal prostitution, combined with picturesque settings, historically made Amsterdam the perfect destination for canna travel, romantic getaways and weekend parties alike.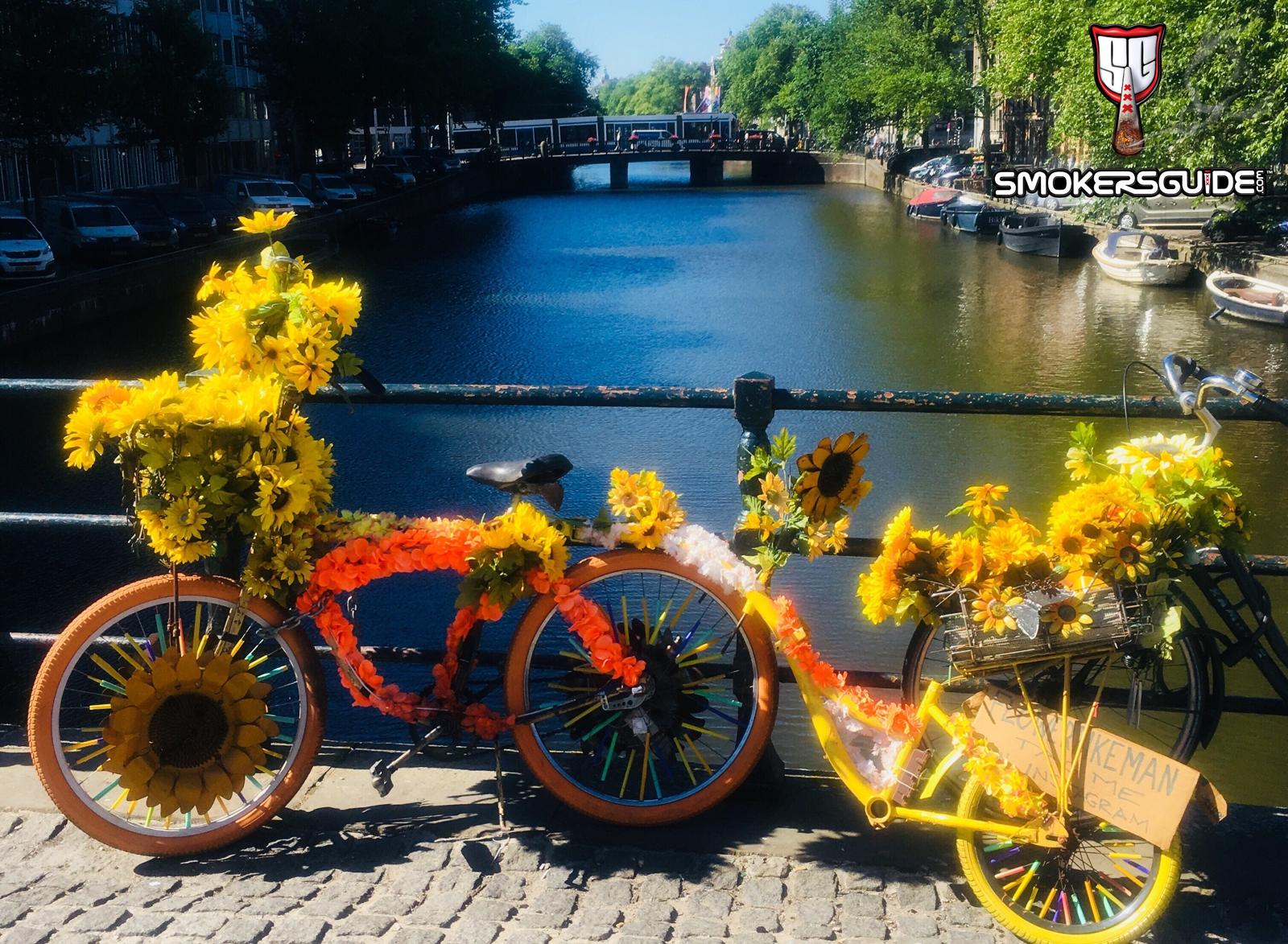 The Ultimate Amsterdam Daytrip
The Netherlands is famous for its bicycle use as a primary form of transportation. The country is as flat as can be, and everything is very compact. Due to the layout of Amsterdam itself, it's a perfect destination for a weekend trip: you can go bar or coffeeshop hopping and hit most famous establishments in just a day, if you have to. You will obviously want to visit for a whole week to not miss all the culture on offer: the world's renown museums like Rijks and van Gogh, concert venues like the Melkweg and the unmissable Ajax stadium. Schiphol is one of the largest, and most sophisticated airports on our planet, so chances are you can travel via Amsterdam to almost any destination in the world. Even if Amsterdam is not your end travel goal, arrange a one day layover to experience the most unforgettable day out.
What is the Highstreet?
If you happen to have just one day to explore, make sure you spend it on the Highstreet! Located just five minutes by foot from the Centraal train station, it offers coffeeshops, bars, restaurants and boutique style shops, all in a magical historical setting.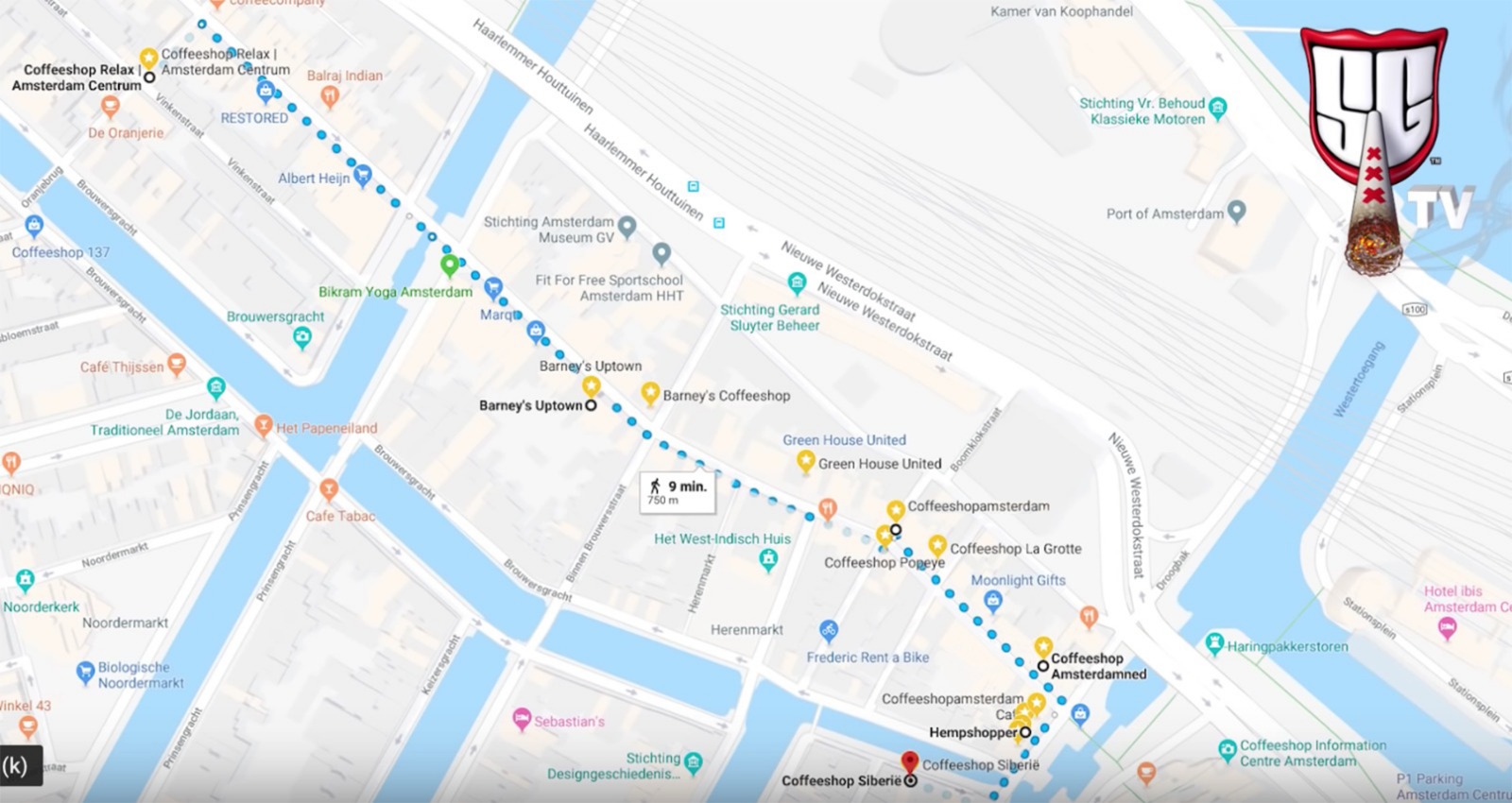 Starting at the Singel canal, the border of the seventeenth century UNESCO site, and continuing west to the Korte Prinsengracht, it further becomes the Haarlemmerdijk, up to Haarlemmerplein (plein = square), where the street continues as the Haarlemmerweg (weg = way). The Haarlemmerplein, with the Haarlemmerpoort, the old gate to the city, leading to and from the wealthy city of Haarlem, used to be the old station, where trains would depart towards the town of Haarlem. Located just 34km or 20 miles outside of Amsterdam, it's just a 15 minute train ride towards the northwest of the Netherlands. Haarlem is uniquely beautiful, with lots of amazing architecture, museums and coffeeshops, in a slightly less busy setting than Amsterdam. Click here to learn about a day trip to Haarlem.
We coined the term "Highstreet" years ago, in one of our printed publications Smokers Guide Amsterdam, as it is home to so many respected cannabis brands. There is literally a coffeeshop to suit anyone's needs, plus smoker friendly bars for those who choose not to partake in full relaxation provided by cannabis.
Getting High (not on the street, get it? ;-)
Whether you are after trying out some top High Times Cannabis Cup winning strains from Barney's Coffeeshop or the Green House, visiting the newly revamped coffeeshops like Relax or Amsterdamned (previously Picasso), being entertained by the hash loving crew at Popeye's, or indulging in the up-and-coming genetics of Amsterdam Genetics, (available at coffeeshopamsterdam, previously De Dampkring), you can do this all in one day.

End your crawl with an amazing view, basking in the sun at one of the terraces on the gorgeous Singel canal. If you are lucky, the sun WILL be shining, and enhancing the natural beauty of the surroundings. If it's raining, and it most likely will at some point, you will still be lucky, cause you are in Amsterdam, one of the happiest places on Earth! End with some tokes at the famous Bulldog or visit the The Store (previously The Doors) at their million-Dollar-view outdoor seats. Smoking a fat joint, while staring at a UNESCO heritage site is kind of a big deal, after all!
Food
If the munchies happen to strike, and let's be honest, coffeeshop crawling can be hard work, the food options are almost endless. From a high end culinary experience at the flashy Barney's UpTown, an early breakfast at La Grotte, a lunch at Green House Munchies by Green House to smoothies or wheatgrass shots at Jay's Juices for a healthy vitamin boost, the HighStreet will not take you by hunger! There are plenty organic, gluten free and other healthy choices, if you are not in the mood for slices of pizza or famous touristy pink donuts.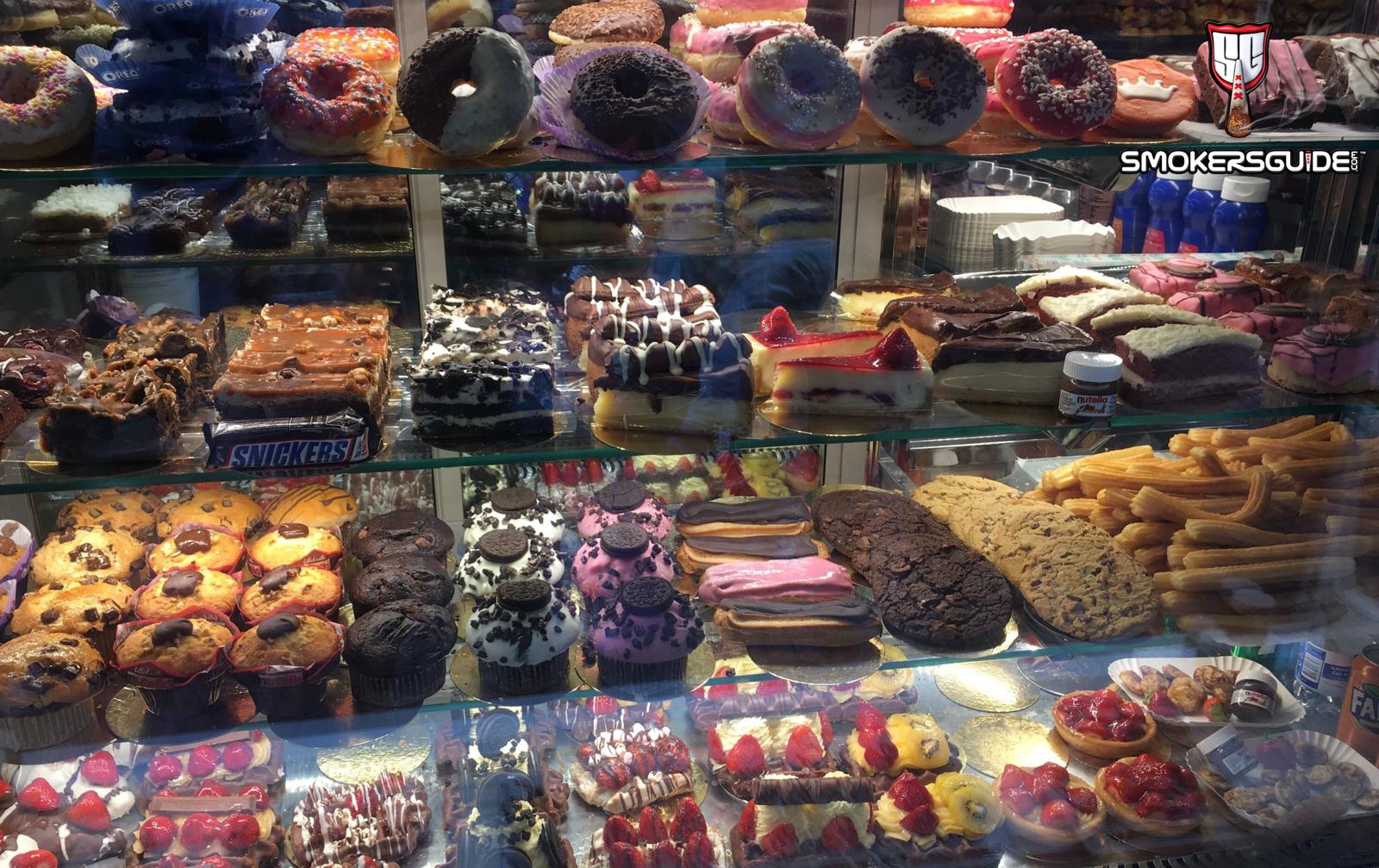 Quenching thirst
Years ago, coffeeshops used to offer both pot and alcohol, making them social hubs, where both smokers and drinkers could indulge in what they liked best. Since the city of Amsterdam forced coffeeshops to choose which license they wish to carry, the situation became a little tricky. Nowadays, if your partner wants a joint, while you are craving a glass of wine, your options are somewhat limited. Luckily, some establishments still have a sweet spot for pot, and you can enjoy alcoholic beverages at coffeeshopamsterdam café, in a smoker friendly atmosphere.
How to do the HighStreet
Now that you know that the HighStreet is a must visit destination, it's time to decide how to tackle the day. In our video time-lapse, we chose to start from the farther end of the Highstreet, with Coffeeshop Relax – you want to have a clear head reading all their lab results, making our way back towards the train station. The Haarlemmerstraat is also a one way traffic street, so if you have little time to spare, take a taxi or Uber from the station to the Haarlemmerpoort, and walk your way back. This will save you some cash, and an overpriced grand tour by taxi, in a not so car friendly city. You can also rent a bike for the day, but since all shops are relatively close to each other, you will go insane with locking and unlocking your bike, instead of just walking.
We end at Coffeeshop Siberie, which is technically not on the HighStreet, but on the adorable Brouwersgracht canal, just steps away. With its 30 years of excellent service, it is certainly worth a detour, and will deliver the slightly more "local" feel, which many people are after.
Following our steps, you will end up right back in the heart of the city, and be able to stock up on some eco-friendly hemp products and famous genetics, from the Hempshopper on the Singel, without schlepping all your souvenirs around all day. You will also be close to the train station to make your way back to the airport, if you are only visiting for the day. If you are around for longer, walk right through the amazing, picture worthy canals, and enter the Redlight District to enjoy the other beautiful views, which you are not so welcome to photograph ;-)
Your feet will most likely be hurting, and your head buzzing, but we can promise you will be a happy little stoner, ahem, camper…
Your contribution counts!
If you would like to read or write reviews for the above mentioned coffeeshops, bars and restaurants, click on their highlighted names to learn more. Remember that all coffeeshops require proof that you are at least 18+, and expect a high level of personal culture. Read more on Coffeeshop Etiquette here, and remember that visiting Amsterdam coffeeshop is a privilege, and you should only indulge in a responsible manner.
Disclaimer
The Smokers Guide does not condone the use of controlled substances in countries where it is illegal to do so. This website (and Smokers Guide Amsterdam book) is for information and education on the progressive system here in the Netherlands. Please respect your countries own laws, and remember that you may not travel with any products containing THC.
If you are looking to learn more about medical and recreational cannabis in Canada, click here to buy Smokers Guide Canada books online.