Following the initial immediate closure of Amsterdam cannabis dispensaries a.k.a. "coffeeshops" due to Covid-19 measures, many have gradually opened their doors to customers, but only with limited hours and to-go only, with no seating. Patrons were still happy to be able to purchase their medical or recreational marijuana on a take-away basis, but that was obviously not the same as being seated inside and allowing food and drink plans.
June 21st, 2020, the Dutch Parliament announced that the strict lockdown measures would soon be relaxed, following the advice of a government advisory group called the Outbreak Management Team (OMT).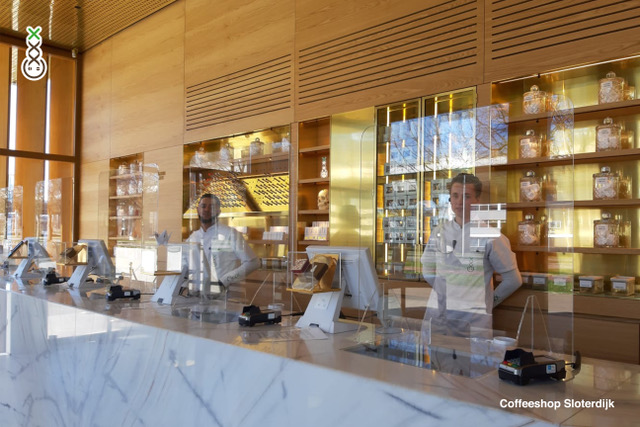 Prepare to interact with your budtender, through a glass partition,
just as this one at Boerejongens Sloterdijk.
Image courtesy of Boerejongens.com
According to the newest information from the official government site Rijksoverheid.nl:
Almost all companies will be open again from 1 July, 2020. Protocols have been established on how they translate the RIVM guidelines into their daily practice, because keeping distance, hygiene and taking protective measures remain important. Discos, night clubs and similar dance venues are the exception. They will remain closed until September 1, 2020.
The 1.5 meter distance still has to be kept. Coffeeshops have been busy working on making adjustments to their interiors, to accommodate the new post-Covid19 reality.
People from the same household may be seated together at one table.
Patrons must remain seated at their own table, no standing.
Regular disinfection of commonly touched surfaces.
Not admitting guests who appear sick.
On an outdoor terrace, the distance between tables may be less than 1.5 meters if a so-called cough screen is placed between the tables.
With more than 100 people inside or more than 250 people outside, reservations in advance and health questions are mandatory.
The business ultimately determines the number of guests with the 1.5 meter distance.
Shops are advised to use electronic payments, instead of cash. This is a big deal, since banks rarely wanted to allow payment systems in cannabis establishments, as they were seen to be dodgy in nature.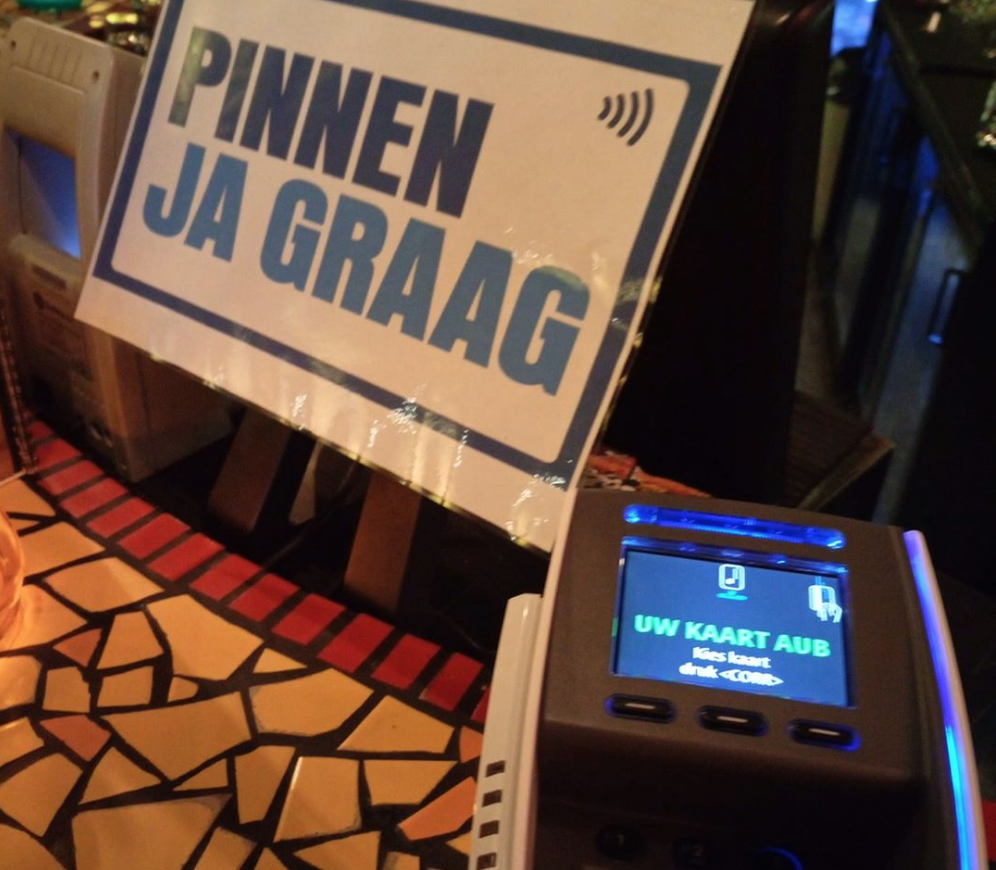 Photo: New payment terminal at Kashmir Coffeeshop in Oud West

Welcome back Amsterdam coffeeshops! It may never be exactly the same, but we all should appreciate the freedom we enjoy to openly consume cannabis. Respect the guidelines and one another and we'll get out of this pandemic together. #TokeSafely
If you would like to learn more about how specific coffeeshops are operating in the new pot - Covid19 world, read BOEREJONGENS COFFEESHOP - LIFE AFTER COVID-19.
Do you work for a coffeeshop or dispensary, or had a unique Covid-19 experience as a customer, and would like to share? Contact us at info@smokersguide.com, and we will guide you on how to get published on our site.

Sources:
https://www.parool.nl/nederland/groen-licht-voor-versoepelingen-coronamaatregelen-vanaf-1-juli~b1fbad3a/
https://www.rijksoverheid.nl/onderwerpen/coronavirus-covid-19/ondernemers-en-bedrijven/sluiting-en-opening-van-bedrijven
https://www.khn.nl/lobby/khn-lobby/gezondheid/coronavirus
SmokersGuide.com disclaimer:
SmokersGuide.com takes pride in featuring high quality articles to its readers, however does not assume liability for the claims and medical facts presented by the author. Please check with your doctor or medical practitioner, before consuming any products containing CBD, THC or any other products recommended here. Make sure to always check for advised dosages, and please keep all THC and CBD products (including vapes, flowers, oils, concentrates or edibles) away from children, animals and any persons who may not desire to consume them. Make sure to clearly mark all products with warnings about the contents, and store all products in locked, child-proof containers, to avoid accidental ingestion. Please check your own country's laws regarding CBD and THC, and make sure shipping is allowed. SmokersGuide.com content is always created in countries where cannabis products are legal, for medicinal and/or for recreational uses. Smokers Guide does not encourage the use of cannabis in countries where its consumption is illegal.