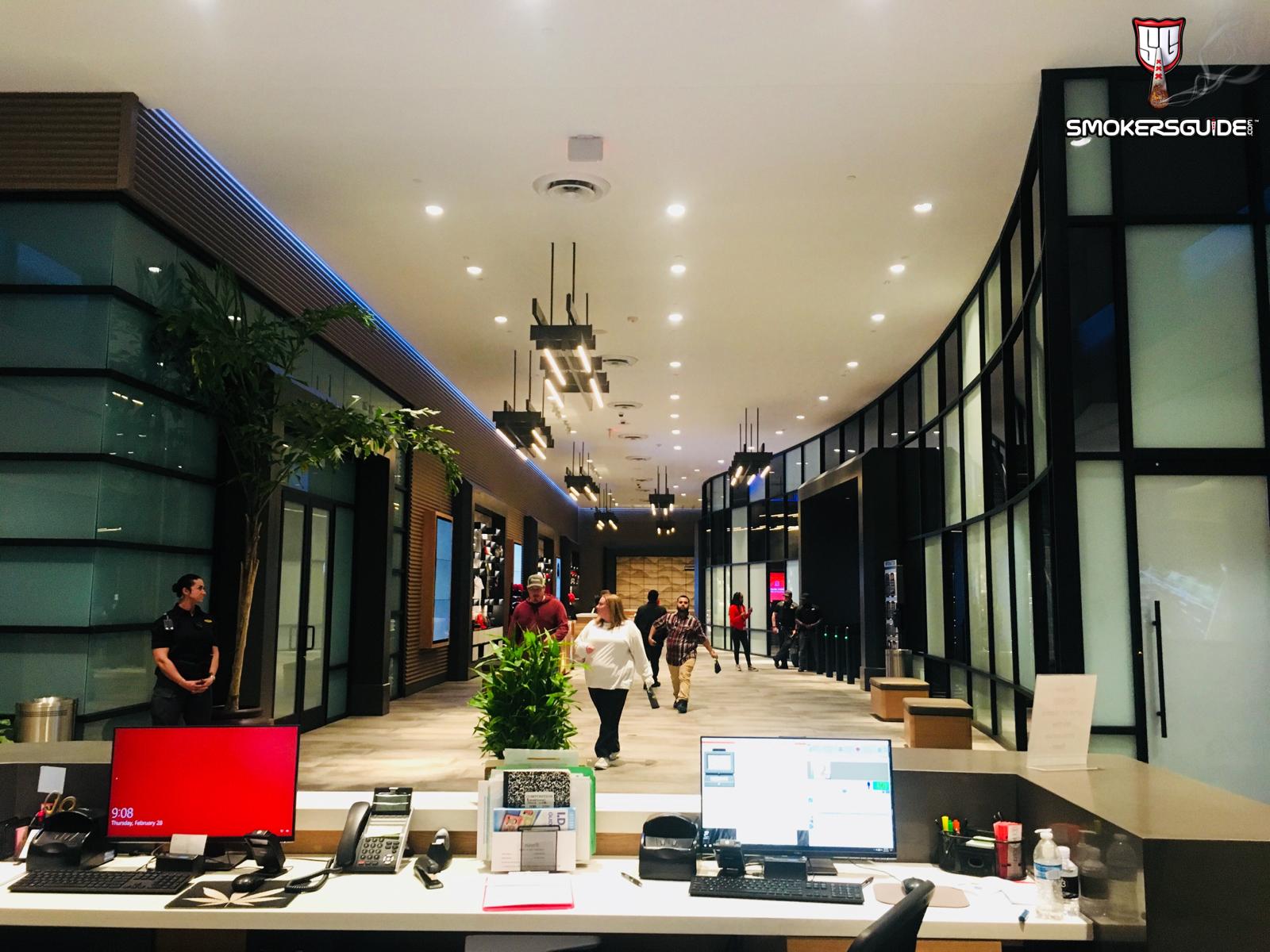 After entering the building, you may feel like you have arrived at a fancy office building, or perhaps a high-end shopping mall. Large flat screen tv's welcome you with information, alongside a large check in desk with several staff members. You must present your ID or passport for scanning. The check-in staff confirms that your details will not be stored or used for any other reason but age verification. As anywhere else, you must be 21+ to enter. Once accepted, you may proceed with your golden ticket (it's actually white and red, but holding it in your hand makes you feel like you just won something ;-) This piece of paper will open the gates to cannabis heaven, or to the self proclaimed "greatest dispensary on planet Earth"!

Once inside, a sensory activated Interactive LED Floor lights up under your feet, perhaps encouraging a little happy dance from visitors. After all, you have reached a sort of paradise on Earth!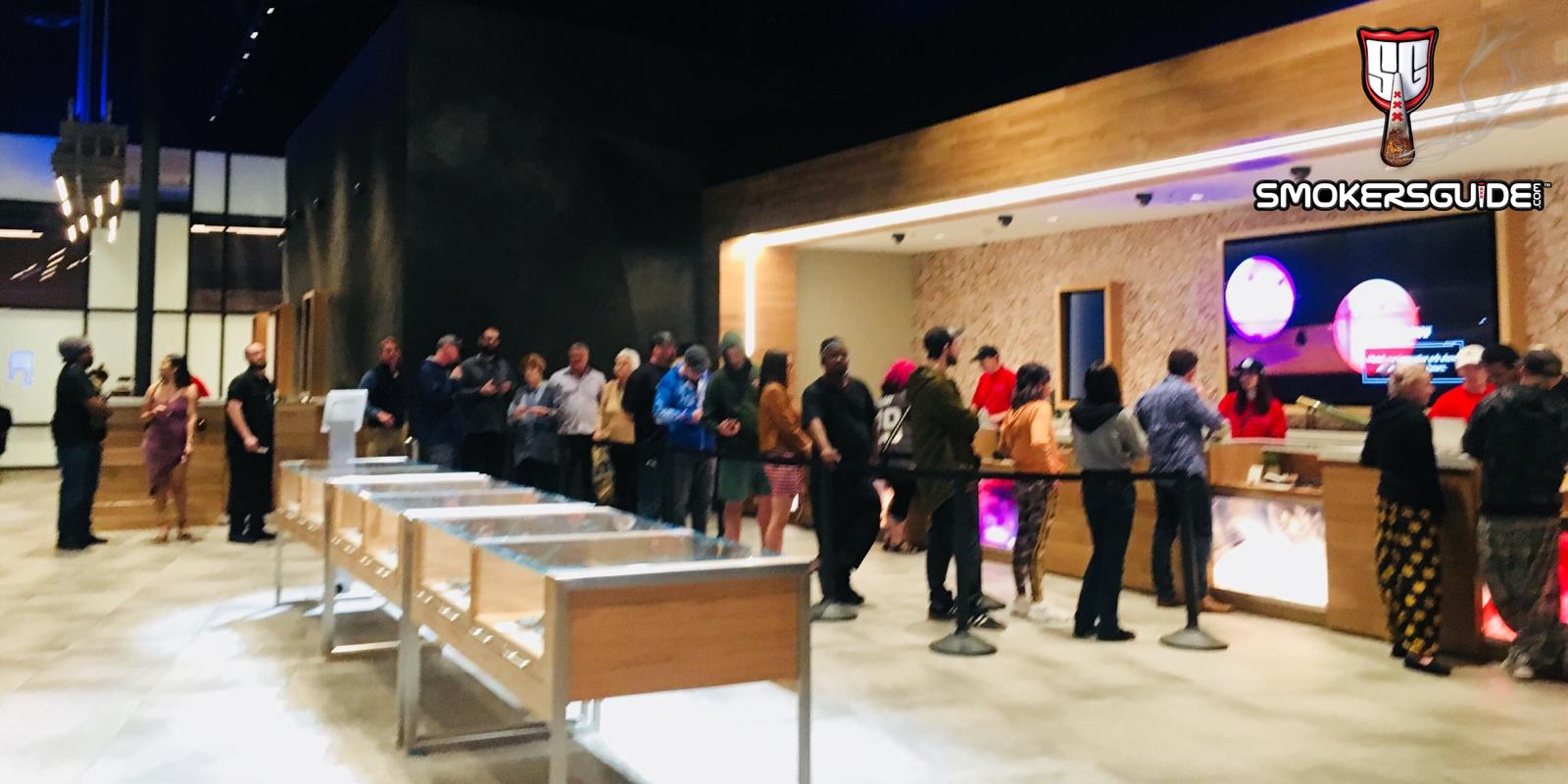 Your QR code equipped pass will let you through the glass security gates, guarded by armed security. This is America, so you will see guards carrying real weapons. I was welcomed by the first member of staff, who gave me a quick run-down of what to expect, and it was a big deal! This shiny bright location resembles an Apple store, but with way more features, including a giant ceiling multimedia screen, long counters for checking out and countless glass cases presenting all products. Several staff members dressed in red shirts offer their help to select the best products.

Overall, especially for first - timers, this dispensary could come across as intimidating, if not the friendly staff who help break the ice. It is an attraction in itself, differing greatly in experience from my years of coffeeshop visits. Fresh and professional; clean and eye-opening. I've entered an establishment where cannabis dreams come true.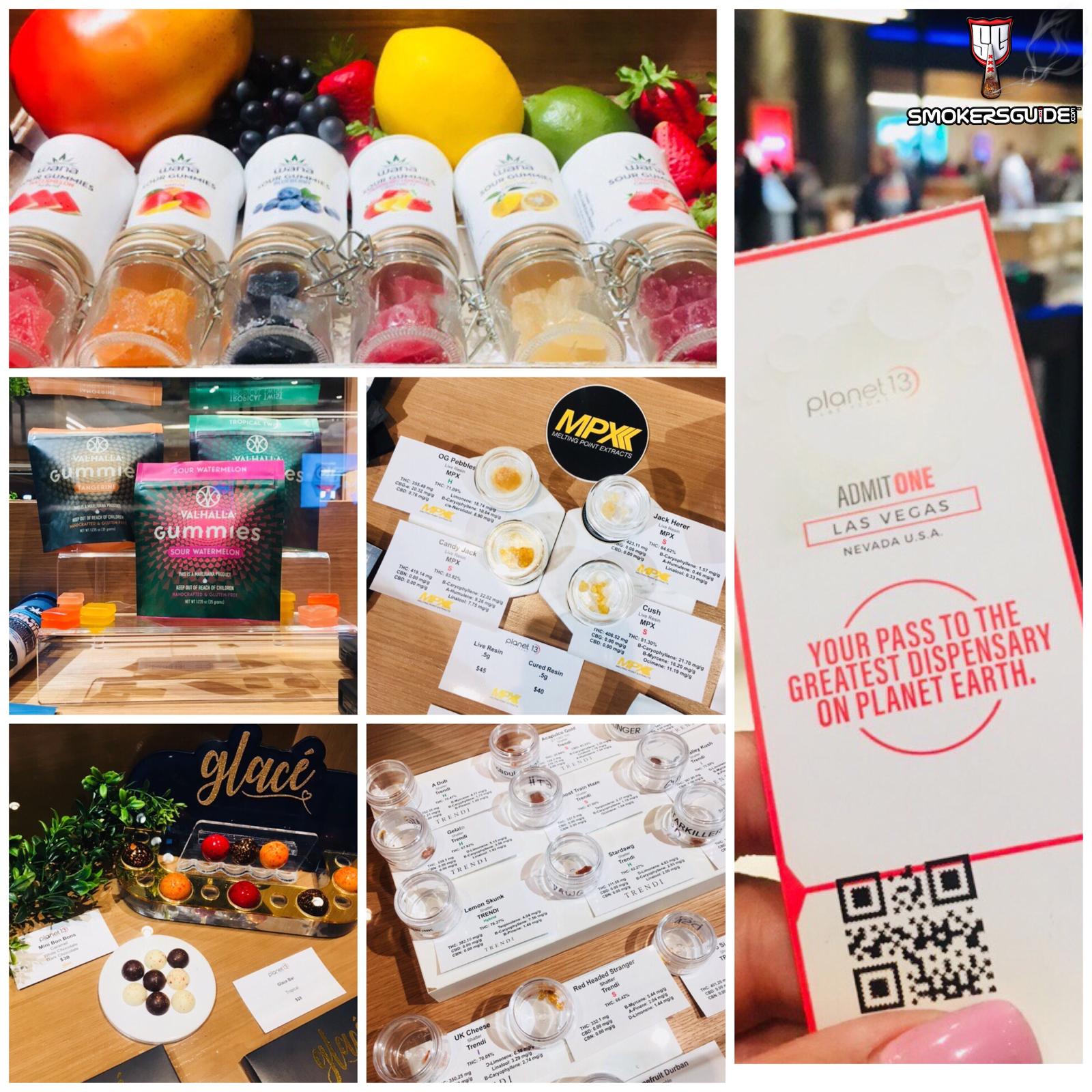 Modern North American dispensaries are a completely unique "beast" - unlike Amsterdam coffeeshops where cannabis can be purchased and consumed in a social atmosphere, Planet 13 is a cannabis Superstore; a shop offering the ability to purchase the widest selection of cannabis products, without the ability to consume on the premesis. That's the tricky part of recreational cannabis use in Nevada - you are able to buy, but it's up to you to figure out where to ingest it.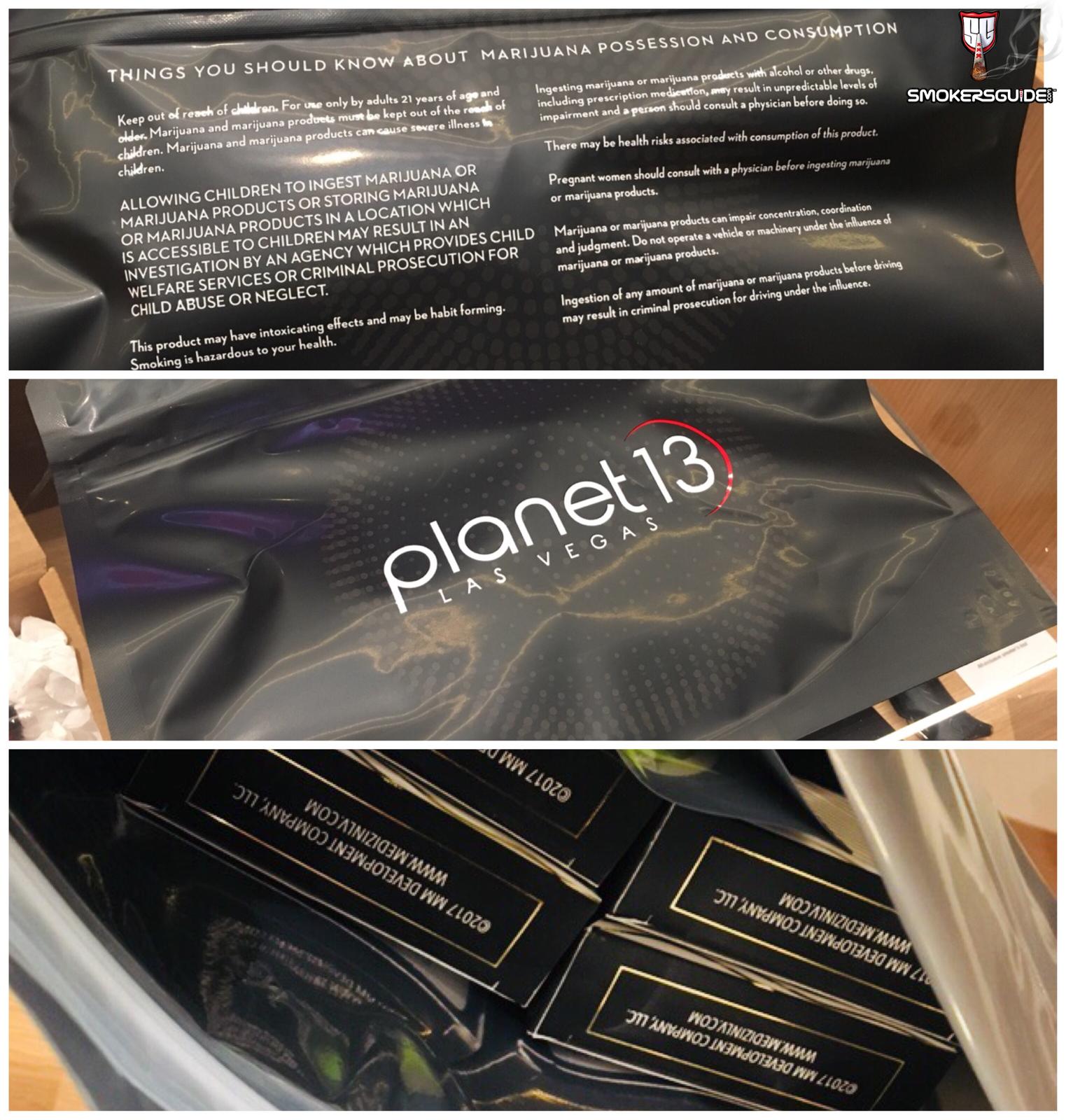 Your purchase gets packaged by the staff in a very sophisticated manner. Large black ziplock bags, with proper child-proof seals feature warnings and information. I managed to buy enough flower and concentrates to fully fill my happy bag, but I observed other patrons leaving with half filled bags, which seamed like a bit of a waste of material. On second thought, I can imagine storing my whole home "stash" in these well made bags - perhaps a great souvenir from Las Vegas.
Planet 13 offers flower, concentrates, edibles, paraphernelia, merchandise and more. All at the highest quality and most beautiful presentation. It also offers recreational cannabis delivery, and free shuttle transportation, but believe me, you will want to come and see it in person, talk to the staff, and probably take a few selfies with the goods :)
Planet 13 is not only a fantastic place to purchase cannabis, but also an impressive Las Vegas attraction. With plans to add on more features to this Superstore, Planet 13 is an unmissable stop on your trip. Open 24 hours a day, this largest dispensary in the world has it all!
Click here for details and reviews for Planet 13 Las Vegas