420 Day Celebrated by Millions around the World - But what is 420 and what are its origins?
20 April 2016
420, or 4-20, or 4/20, also called 420 Day or Cannabis Day is day of celebration for the Cannabis culture. Many people will gather together on this day to consume and celebrate Cannabis, aka Marijuana aka Weed. Around the world people will be discussing the benefits of marijuana, facts about marijuana and medical cannabis as well as continuing the fight for legalization. Shouts of Happy 420 echo around the globe… but what is 420 and what are its origins? Here's the Smokers Guide two cents:
The Waldos and 4:20, Louis
It's hard to know the true origins of the term 420, because its use developed over time and in select pockets. Nearly everyone agrees that it originated in California. The most accepted version is about a group of five teenagers from San Rafael High School in Northern California in 1971, who called themselves the "Waldos". They claim to have been given a hand-drawn map leading to a huge crop of Marijuana plants that had been abandoned somewhere to the north of the headlands. The Waldos agreed to meet at the Louis Pasteur statue after football practice had ended, which fell around 4:20 pm. From there, they planned to embark on their journey to find the mythical field full of Cannabis.
The days passed and sadly the Waldos never found the field but still met at the statue regularly at 4:20 to smoke cannabis. They would say "4:20, Louie?" in passing to each other. Over time, people dropped the Louis or Louie, and it caught on with the close knit of stoners (of which Marin county had plenty in the 70's) and spread around. Apparently the term was picked up by other locals in neighboring towns and counties. The Waldos had some ties to the Bay Area's own Grateful Dead so when they were hanging out, the term got a further boost in popularity. Once the Deadheads (fans of the legendary band) caught wind of it, 420 spread like thick, skunky smoke.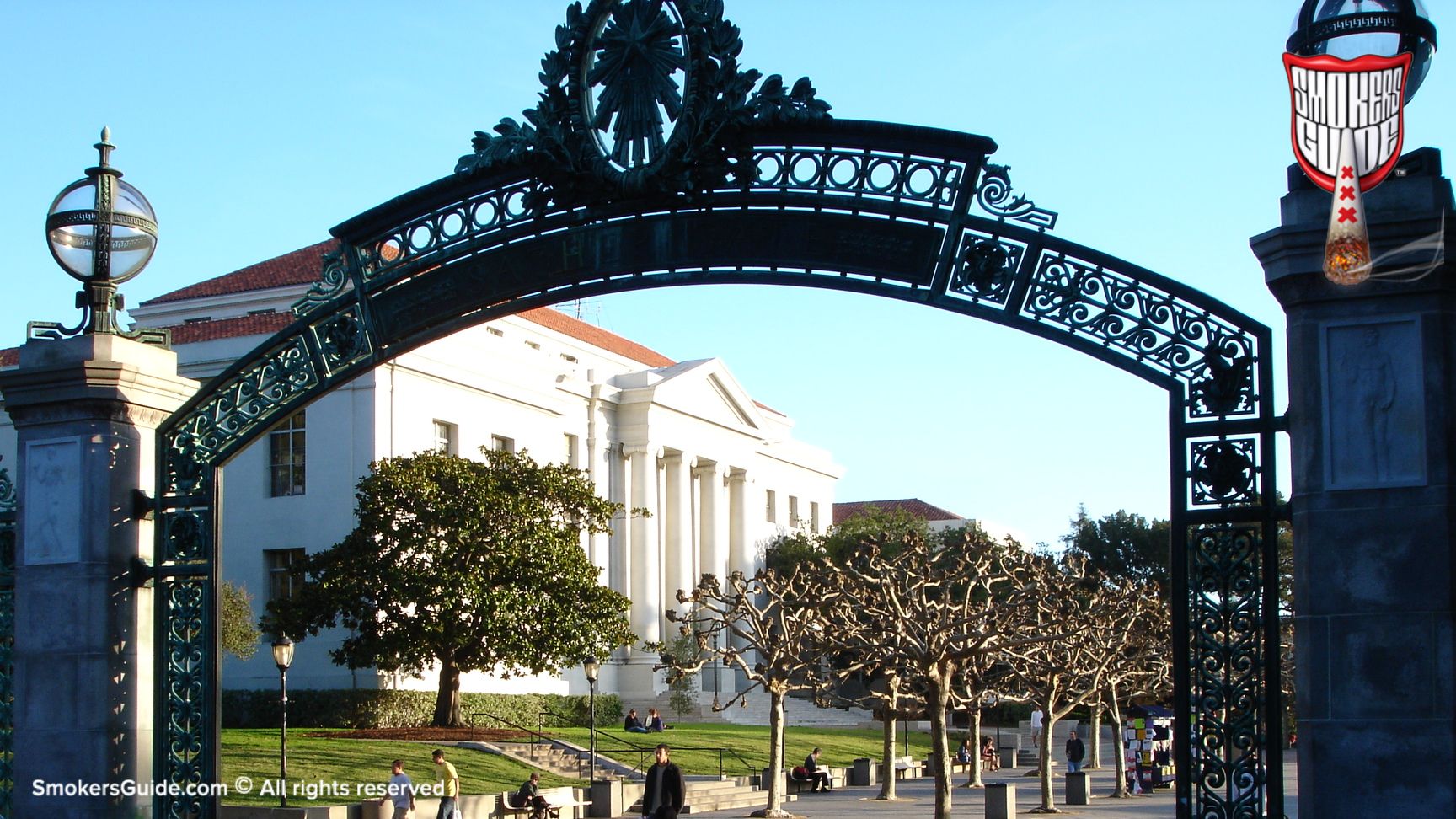 A lot of it started right at one of the top universities in the world... Cal Berkeley.
Berkeley As Liberal Nesting Grounds For 4-20 Marijuana References
Although quite young at the time, our own Editor-in-Splief AB-SG, was around during these early daze and remembers most of it first-hand: "In the late 80's the term was used quite a bit by a lot of kids from the North Bay (San Francisco Bay Area) as a secret code to go fire one up… by the early 90's a lot of students at the University of California Berkeley who were from areas like Marin, Santa Rosa, Fairfax, Sonoma, Napa, etc. used the term blatantly in front of professors and administrators. It was our secret code!"
As the Waldos were reportedly atheletes, there are other ties to Berkeley. He fondly recollects, "I knew a lot of great athletes, particularly soccer players and swimmers from Cal's top NCAA teams who loved ganja. Some of the fraternity bros would call out to teammates at practice… we doing 4:20 at Strawberry Creek?"
One of our fav smoke-out spots on U.C. Berkeley campus; Strawberry Creek!
4/20 Spreads Among All Of The "True Heads"
The fact that it was undercover weed talk seemed to encourage other students from other areas of California to bring it back to their hometowns around the state. "It was pretty funny that the educators, parents and even disapproving girlfriends knew nothing about our plans to get baked."
As 420 was used more and more, a few stoner-students even referred to the Campanile (tower fashioned after the one in Venice, Italy) as 4:20 tower, and as the clock would strike, the puffing would commence. "When it was lit up at night (and you were lit up equally), the thing looked a giant joint."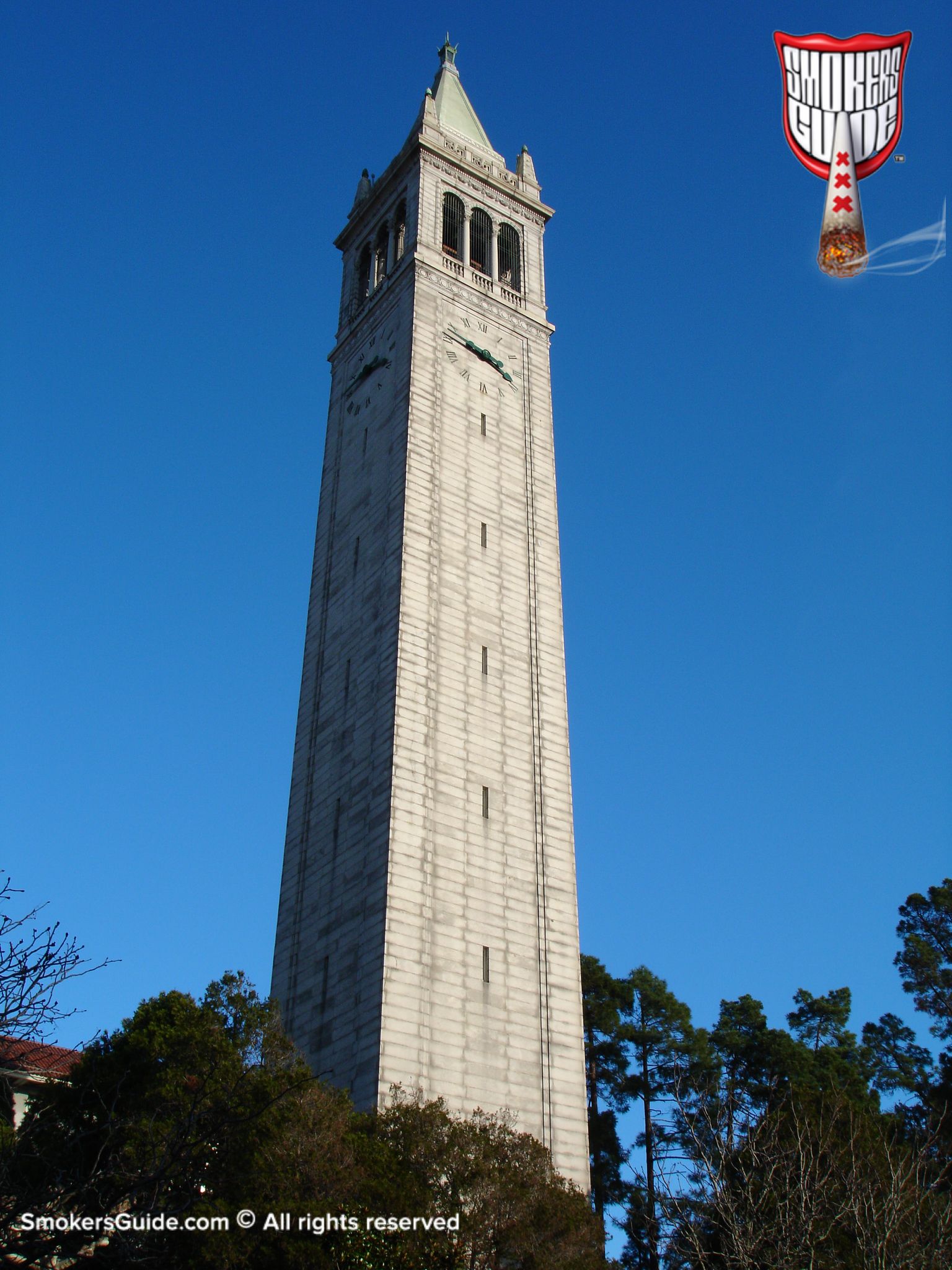 The Berkeley Marijuana Intitiative Makes Sense
Of course most of the student-body were not big smokers but the city of Berkeley did have what was called the BMI (Berkeley Marijuana Initiative) which was established by city council in the 1970's, making cannabis the lowest priority on the police's agenda.
The city proved to be a fertile breeding ground for many things marijuana related since the 1960's days of free speech; by the 1990's, not much had changed. The 420 culture flourished in the background, but also in public.
Over the period of a decade, it started taking on a life of its own. A lot of the Berkeley locals (who weren't enrolled in the university) started using it too, and the rest is history….
In a town like Berkeley where joints were openly smoked on the streets, in People's Park and even on the college campus, 420 found a true home in the daily culture. The east bay's most liberal community was not only educated and receptive, it was international. 420 lore was shared exponentially from here on out.
High Times Always Needs New Content
In the 90's High Times writer Steve Bloom was at a Dead show and came across a flyer to celebrate 420 up at Mt. Tamalpais (an all-time fav NorCal 4:20 spot with a view over the entire bay). He wrote about it and the magazine picked up on the popularity of the term and began to publicize it as a "day", to be treated as a new celebration. It was probably being celebrated already in small circles, but High Times took it to the max, with Steve Hager and co. using it whenever possible.
In the late 90's the 420 phenomenon grew beyond belief, "even here in Amsterdam" says AB-SG, who witnessed the "secret stoner code" from his own backyard develop into a global term. "I don't think any of us true Cali stoners were too happy about the 'outing' of such an incognito term at the time." Once the early sting wore off however, "I know that I personally embraced the international appeal of 420".
Over the years, he recalls hearing everything about the origin of 420; from the California penal code for marijuana possession to the numbers multiplied together in a Dylan song. New Yorkers have claimed to be the originators and even a few cheeky British who smoked too much Cheese!
Many people falsely assume there's a Grateful Dead song about it, says our editor: "Haha, I never heard Jerry Garcia mention it, but I can certainly remember people saying and alluding to it at many Berkeley Greek Theater performances..." As is typical with any popular culture origin tale, a few things have been blended together to create the best story. "I have some great friends who went to San Rafael High School about a decade after the Waldos graced the halls" says AB-SG, "I had better ask them personally what they remember..." stay tuned for more details!
No matter how it began, this little NorCal saying has grown with the times. In just over forty years, 420 has become an event celebrated around the world. This year, festivals and celebrations will be held in most large cities around the planet.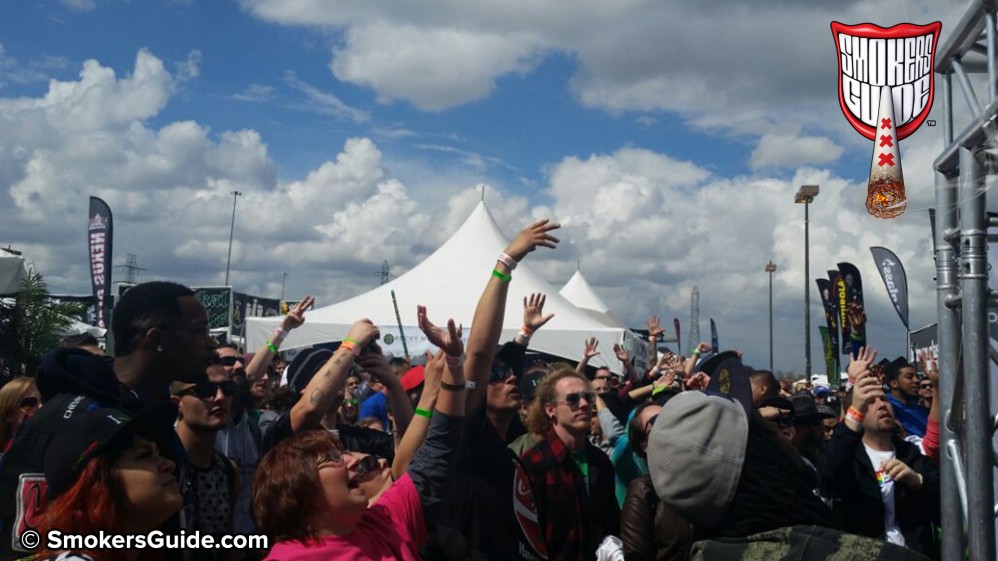 The Cannabis Cup in Denver, Colorado.
Most cities in the USA had some form of event or celebration from the Nevada NORML Vegas 420 Music Fest in Las Vegas, Nevada to The National 4/20 March, Rally and Concert in Washington D.C. And of course the Cannabis Cup was held in Denver, Colorado – an event now open to all adults over 21 thanks to Colorado's new recreational marijuana laws. In Canada, events where held in Vancouver, Ottawa, Winnipeg and many other cities. Thousands of people gathered in Hyde Park in London, England to protest for changes in the law. And of course here in Amsterdam many people were lighting up big joints as the clock struck 4:20 on April 20th.
From the USA and Canada to South Africa to the UK to Austria to Australia and even Iceland – 420 day is truly becoming an international event as the laws on Cannabis continue to change and much of the world is slowing stepping towards legalization.
Even though 420 started as a covert way to talk about getting high, it has now become a canna-holiday! To us here at the Smokers Guide, 4-20 day has always been about the gift of natural cannabis and the peaceful aura of the plant that promotes love, happiness and brotherhood.
Spark up a fatty! ... or a bonghit… or a dab… or a vapor hit...

For more on Amsterdam's 4:20 parties, read on...
| HOME | SMOKIN' SECTIONS | TOOLS | COMMUNITY |
| --- | --- | --- | --- |
| | | | |