The Cannabis Cup has been an Amsterdam celebration of everything Cannabis for over 20 years. Judges are given the opportunity to judge the finest weed and hash that the growers and coffeeshops have to offer.
18th Cup Results - 2005
GLASS CUP
1. Triple Perculator by Green Devil
2. D-Line by DNA
3. Opal Smooth by ROOR Glass
PRODUCT AWARD
1. Vapezilla by Wicked Roots
2. Bubblelator by Pollinator
3. Mini Matches by De Dampkring
HASH CUP
1. Caramella Cream from Barney's Coffeeshop
2. Rifman Malika from De Dampkring Coffeeshop
3. King Hassan from Greenhouse Coffeeshop
NEDERHASH CUP
1. Waterworks from De Dampkring
2. Kandi Bubble from Barney's
3. Arjan's Ultra Haze 2 from Greenhouse
SEED COMPANY SATIVA
1. Martian Mean Green from DNA
2. Nebula from Paradise Seeds
3. Kushage from T.H. Seeds
SEED COMPANY INDICA
1. Lavender from Soma Seeds
2. L.A. Confidential from DNA Genetics
3. Sensi Star from Paradise Seeds
CANNABIS CUP
1. Barney's (Strain: Willie Nelson)
2. Greenhouse (Strain: Arjan's Ultra Haze 2)
3. De Dampkring (Strain: Silver Haze)

Cannabis Cup 2005 - An S-Guide Synopsis
After a week of "hard work", i.e. lots of smoking, drinking and visiting many parties, the Cannabis Cup 2005 has finally come to an end. What a week for us here in Amsterdam. For many, the Cup was several months of preparations and a week of hard work; and as all contests go, only very few finished the week with total satisfaction - a Cannabis Cup award. The Cannabis Cup 2005 began with "sign in", and the queue was nearly around the block to pick up the judge passes. The more fortunate visitors that came to Amsterdam with a tour company got their passes sorted out earlier. Others with their luggage in tow, had to spend a bit of time lining up for passes, but many seemed completely stoked to be in Amsterdam, ready to get their first joint into 'em.
The coffeeshops were packed, and many were offering special deals for Cannabis Cup judges. Barney's was filled to capacity, but lovely finger-foods were being served to keep the masses in order. The Dampkring much the same, the room was packed and ganja smoke had long-ago replaced oxygen! Grey Area? You'd better have something to read (A Smokers Guide, perhaps?) while waiting for the "purveyors of fat eighths" to serve up the good stuff. In fact nearly every coffeeshop that entered had it's best staff and menus on offer. The expo at the Sugar Factory was definitely worth visiting. The atmosphere was nice and friendly, and so was the smell in the air. If only the SF could be twice the size - maybe then the shop stands and all products could have been better exposed. Because of little space and many visitors the SF became slightly messy and claustrophobic but in the end, most visitors didn't mind. The weed, hash and even THC capsules were flowing plentifully and you couldn't take a step without seeing an interesting new product worth learning more about.
This guy who was pitching his THC Capsule product was absolutely NUTS! Our staff found him to be one of the most entertaining of the expo. The THC refinement method was quite effective as well. (See the reviews page for more info...)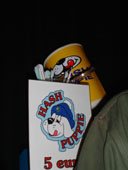 A cool party was hosted by T.H.Seeds/Hempworks at the Bitterzoet. The Hemp Fashion Show turned out to be a great success, even though the organizers were over an hour late to begin the show. Many that arrived on time for the show got sent away and asked to come back later. The fashion show was well prepared, presenting the best Hemp gear designed by Hempworks. Surprisingly, after the show many people left the club without waiting for the lovely Hemp Hoodlamb jacket lottery, which also took place an hour late. Although many people left the club after the show, others kept on dancing till 3am.
One of the coolest parts of the night at the Bitterzoet was the HASH PUPPIES vending machine. For €5, you got a fruit flavoured cup of very potent crushed hash & ice. Yum.
The final event - the Award Night at the Melkweg brought together all the judges and participants of the 2005 Cannabis Cup. It was a great ending to a week full of Cannabis events, although it was easy to see how tired people were after smoking and partying all week long. The Melkweg's Grote Zaal (Large Hall) was packed with people, but it's size did not allow all interested to enter and enjoy the Award Ceremony. The final event was again well prepared, although we would applaud any efforts to make the award results more understandable, such as a projector or screen with the final winners. Many people tried to write them down, but because this year the categories of winners were different than last year, many thought it was hard to follow.
After the awards were handed out, there was a mass-exodus from the Melkweg; many were stoned, tired or simply flying back to reality next day. Those who chose to stay enjoyed some late night tunes and some party favours together with the award winners who were in "high spirits". The 2005 Cannabis Cup was generally well-received by all who we interviewed. There were many advances made since the 2004 event so we can only look to 2006 for even better improvements, more fun and more great buds…
Visit the Cannabis Cup Website for more info!

17th Cup Results - 2004
Note: Shops highlighted in colour may be found in the 2005 Smokers Guide To Amsterdam book.
BEST PRODUCT
1. The Original Buddy from Nu-Clear Concepts
2. Vapezilla vaporizer
3. Bubble Bags
BEST EXPO BOOTH
1. Barney's Farm
2. Greenhouse Seeds
3. Sensi Seeds
IMPORT HASH
1. Caramella Cream from Barney's Coffeeshop
2. Royal Cream Gold from Rokerij Coffeeshop
3. Nepal Pollen Shoe from Greenhouse Coffeeshop
NEDERHASH
1. Barney Rubble from Barney's
2. Hawaiian Haze Ice-O-Later from Dampkring
3. Ice-O-Later from The Smoking Bull
SEED COMPANY SATIVA
1. Love Potion #1 from Reeferman Seeds
2. Arjan's Haze from Greenhouse Seed Company
3. Sage N' Sour from T.H. Seeds
SEED COMPANY INDICA
1. God Bud from B.C. Bud Depot
2. MK-Ultra from T.H. Seeds
3. L.A. Confidential from DNA Genetics
PEOPLE'S CUP
1. Arjan's Haze from The Greenhouse
2. NYC Diesel from De Dampkring
3. Cheese from Homegrown Fantasy
CANNABIS CUP
1. Barney's Coffeeshop (Strain: Amnesia Haze)
2. Katsu Coffeeshop (Strain: Killer Green)
3. Sensi Museum (Strain: Jack Flash)