Warlock Haze
date
Aug 13, 2002
Origin
Warlock strain (Bluebird Exclusive) crossed with a Haze. Overall this mainly Sativa bio is quite a specimen!
Look
Rounded, a bit pyramid shaped, tightly formed yet lightweight buds covered with heaps of orange-brown hairs. It's very "fuzzy" weed with thin "blade-like" leaves. The bud is in prime condition; as you pull apart the interlocked pieces you expose an extremely crystalled core that looks like it is still growing... coli reaching skyward for the light.
Smell
On "first open" of the bag, you are met with a quick burst of citrus orange and grapefruit. Wonderfully fresh. As you begin to break this up however, you can really smell the hospital haze; a combo of cleaning supplies and hospital hallway scents.... (Yeah it sounds strange, but it's true!) As it burns, a very heavy and familiar scent of what I describe as Sage & Wild Desert Flower hangs in the air; I "funked up" my whole neighbourhood with this gear!
Taste
OK, it gets even stranger here: Unlike most Hazes there is much more of a moderate flavour from time to time, drawing on the sweet-fruity flava of the Warlock perhaps. I get a bit of a sweet-spice like anisette or black licorice. There used be these little sweet-mints called SenSen (I think it was English), that my grandfather used to chomp on with his wood teeth. This is the taste I get, and if anyone knows what i'm on about, and where to find SenSen, please let me know!
Effects
Much light-headed-floating-ness. Mixed with alcohol, and you are going outta your head. This is a chatty, buzzy high? For one hot minute! Yo, this is serious Trance Weed: I stared at a blank spot on the wall for what seemed like 15 minutes. I stared at myself in the mirror, shee-it, I may have even started talking to myself on this TW: "Why are you so slow?.... Duhhhhh, I don't know." As you settle into the FX you go sticky eye stylee, and your eyelids feel like they are working overtime, tryin' to blink over the two "glueballs" staring at the wall!
Overall
I took those wooly mammoth nuggets out en ground 'em up, placed it in the vapo-bowl, and took a huge "quick-draw" without remembering that Sativa/Hazes burn real "hot" (i.e. quickly) in the vapo.... Yeeeeeeowwwww! I was gasping for air as the "almost liquid" vapour filled with mad amounts of THC hit me, BOOM!

Quite a lovely combo of strains: I checked the site to see my old review of the mainly Indica Warlock from "back in da day" and (besides laughing at the early photos) realised I am not really always talking shit: "the fruity-spice to match the Riesling" and the "rushing high" were all present here too. Warlock Haze is spot-on! This Dampkring offering is a most worthy offspring!
want to review? create an account
Member reviews
other reviews from Tweede Kamer
Purchased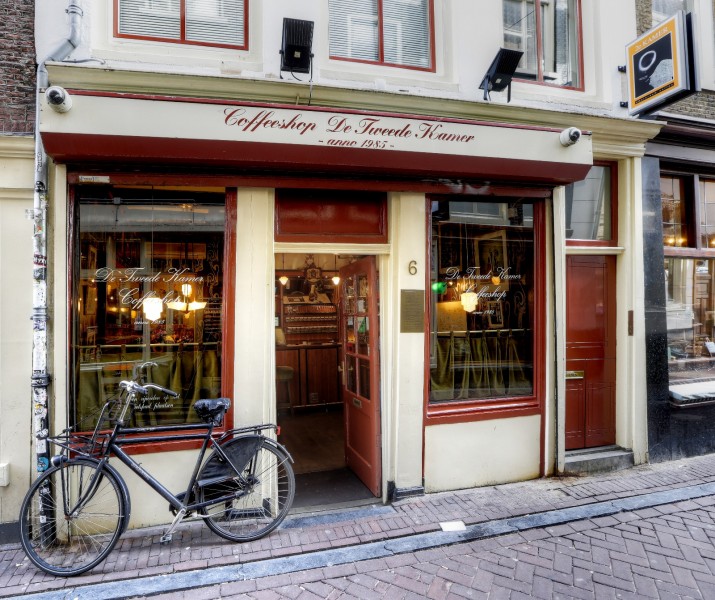 Tweede Kamer
Heisteeg 6
Amsterdam
shop profile
related

Warlock (Bluebird)
| HOME | SMOKIN' SECTIONS | TOOLS | COMMUNITY |
| --- | --- | --- | --- |
| | | | |