Nepal Cream Charas
date
Oct 7, 2004
Origin
Nepal
Look
Very dark and oily exterior with a more sandy-coloured, "fudgie" interior. See the pic at right and notice how gooey it was as I twisted off a few pieces for sampling... I think there will be some good tokes ahead. The hash looks clean and free of contaminants; I even made the "Pablo Hassan test" and sucked a piece to see if any colour disappeared but it still looked great! Even better, it tasted really fresh and peppery in the back of my teeth.
Smell
It lights up quite easily and stays burning in a proper manner. You can smell the richness and know the quality of this hash immediately. There was however, a slight amount of black smoke in one of the test burns but as you'll see, the taste and FX were definitely NOT related to anything that would blacksmoke.
Taste
Flava-wise, you have a really almost vegemite taste... kind of salty, herbal, and softly soy-sauce'd. (ALMOST edible!) There is a heavy pepper-minty oil "drip" that forms in the back of your throat as soon as you finish exhaling a big hit from this gear. NativeK & I smoked a few hits from a glass bubbler; it was very nice to smoke this type of hash without tobacco. It woulda made a big hit at my last summer barbecue! :)
Effects
FX are very sharp, with "striking visuals", almost as if you are wearing reading glasses (even if you don't need them!) NativeK wanted to play Play Station 2: Tekken or some other fighting game on this high! His eyes were quite busy and he felt like giving his reflexes a good workout!
Overall
I must say, this HIGH is just that! Uplifting and energizing, a very cerebral high indeed. I think this may begin to prove that Popeye's has put their bad quality daze behind them! This hash was really good to smoke; i'd be interested to know what PH and Mriko would think of this... Bushdoc gives it a green thumb up!
want to review? create an account
Member reviews
other reviews from Popeye Coffeeshop
Purchased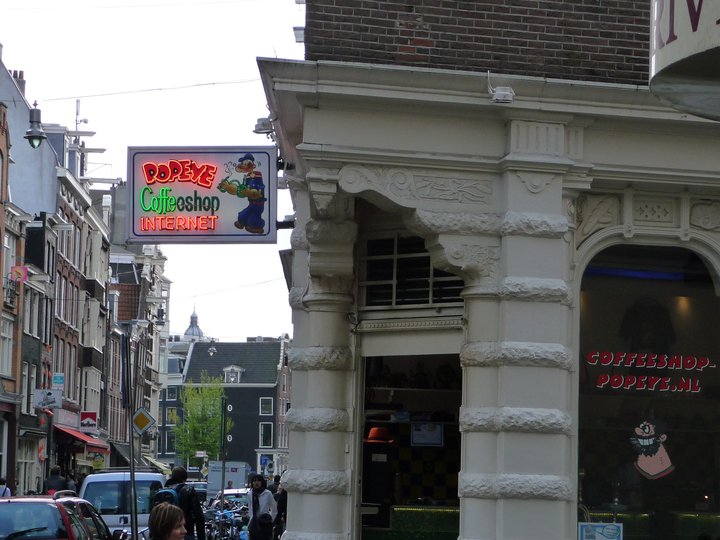 Popeye Coffeeshop
Haarlemmerstraat 63
Amsterdam
shop profile
| HOME | SMOKIN' SECTIONS | TOOLS | COMMUNITY |
| --- | --- | --- | --- |
| | | | |