Edelweiss
date
Oct 10, 2001
Origin
Never certain of this origin. This strain is a hybrid that seems to lean toward it's Afgani and "white cousins". Need to ask the Grumpy Gardener for more details
Look
Some dense and fat-leafed buds. Looking as if someone created them for an animation or something trippy like that! Nearly white from all da crystals. There are lots of smaller orange-brown hairs that stick out here and there, and a few larger leaves left on to protect the THC.
Smell
Sweet, and actually quite citral-fruity for an Edelweiss; maybe this had a bit of an orange-bud influence somewhere down the line.
Taste
Very much like the smell, there is also much of a flowery-pollen taste, heavy on the throat and lungs. All the crystals lend to a cool mint taste that really leaves your mouth with a fresh flava.
Effects
This is a very visual high. Your eyes get a 'glaze' over them and things seem overall blurry and occasionally 'flashy'. This is the kind of stuff that makes you feel like putting some reading glasses on' even if you don't normally wear any glasses! Very stoney, you walk around inna daze so it's best to be somewhere mellow and not too crowded when you toke.
Overall
A great weed to smoke for a visual trip. You get very, very stoned and it at times borders on psychedelic. The mental FX makes you think this should be called Einstein-weiss! If you've got things on your mind, you'll really be getting deep'
want to review? create an account
Member reviews
other reviews from 1e Hulp Coffeeshop
Purchased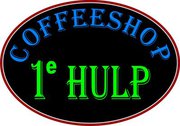 1e Hulp Coffeeshop
Marnixstraat 194
Amsterdam
shop profile
| HOME | SMOKIN' SECTIONS | TOOLS | COMMUNITY |
| --- | --- | --- | --- |
| | | | |