KifKif
date
Oct 10, 2001
Origin
Bits of leaf and tiny clippings of Moroccan hash plants. S-Guide "fam" like mriko and Lizard were schooling our new man, Borya on Kif. Well here's the latest version...
Look
This sample had a lot less brown and stem parts than previous versions. (See the other Kif review from earlier daze) Also, this sample had a much finer, more powdered consistency compared to the leafier versions I'd tried in the past. This one really has a bit o' trichome action going here which makes definitions even more confusing!
Smell
A fine incense and spice scent. It smells a little like a royal polm with a manali blended in.
Taste
The moisture left in the KifKif after short curing make it burn a little harsh in the sebsie pipe, especially without tobacco as a burning medium. As a result, the taste wasn't as good as previous until I left some out overnight. Next day, it was really too dry, as it burned up in a flash, making me hack up spicy.
Effects
Very cerebral, ampy, buzzy, energetic high. Slightly dizzying too. Some people find this dizzying effect makes them mellow and subdued but it seems to make me hyper.
Overall
Like a lil' kid spinnin' round til I fall over or puke, I keep smokin' this gear til I damn near do both! This is not trichomes, this is rarer. It's not often around and tends to go quick, so it's more of a lucky-timing thing. Coffeeshop Soft Temple also has some o' this gear from time to time. Happy Hunting....
want to review? create an account
Member reviews
other reviews from 1e Hulp Coffeeshop
Purchased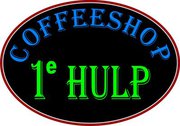 1e Hulp Coffeeshop
Marnixstraat 194
Amsterdam
shop profile
| HOME | SMOKIN' SECTIONS | TOOLS | COMMUNITY |
| --- | --- | --- | --- |
| | | | |