Royal Cream
date
Oct 10, 2001
Origin
Morocco
Look
Here's another fine dark polm with a heavy oil content. A moist cake-like interior with a consistent colour and look makes this one really appealing to the eye. The tiny balls I made as I skinned up kept getting stuck to my fingers and made me brown-nailed for the next few daze!
Smell
A very rich and perfumed polm; just smelling the soft and sweet Maroc scent makes your brain ready to experience the great flav and high that surely awaits.
Taste
The taste is not too overpowering, and quite smooth on the throat which is rare for such an oily sample. Once you've tasted something this refined it is very hard to enjoy anything less!
Effects
Subtle yet "rising" high that sets in within moments and keeps you buzzing strong and steady for at least an hour or so which I feel is longer than normal for a polm.
Overall
This stuff is a perfect dark polm for me; it's not too heavy on the throat but it still has all the great features of a lighter moroccan. A superhash!
want to review? create an account
Member reviews
other reviews from 1e Hulp Coffeeshop
Purchased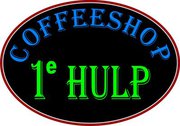 1e Hulp Coffeeshop
Marnixstraat 194
Amsterdam
shop profile
| HOME | SMOKIN' SECTIONS | TOOLS | COMMUNITY |
| --- | --- | --- | --- |
| | | | |