Bio Sunshine
date
Oct 10, 2001
Origin
Combo of skunk, widow and ??? Bio.
Look
Imagine seeing an acne-faced muscle man all swollen up. Now take away the steroids and you are left with a rarity! That's what you get here: This shit looks straight hydro BUT it's not! Big broad leaves covered plentifully with crystals that are like dried glue. No matter how hard you shake these lil tri's really don't want to fall off! Fat orange fuzzies are the first off and they don't fall without a fight!
Smell
Green and fruity. Mostly green though. I thought it was gonna be a bit moist but as I broke it up the scent really got nicer and "drier". Usually the centre is the moister... go figure!
Taste
Bio-Fresh. I like the fruity lime flava which was made stronger by the lack of S (seeds & stems). The heavy crytal coating does not do much to mess up the great taste which is also unique.
Effects
The high is fresh and crisp. My mind was more buzzing with visuals coming into play only very early on. After I settled down I was in 3C Mode, Chilled Cruise Control! Yes-i.....
Overall
This was a lovely bud! For purists, this type of bio really makes an impression. For those of you are after utter visual devastation go for the Hawaiian Rise but for a nice ampy buzz this is the Sunshine you need on a rainy A'dam day!
want to review? create an account
Member reviews
other reviews from Any Day (CLOSED)
Purchased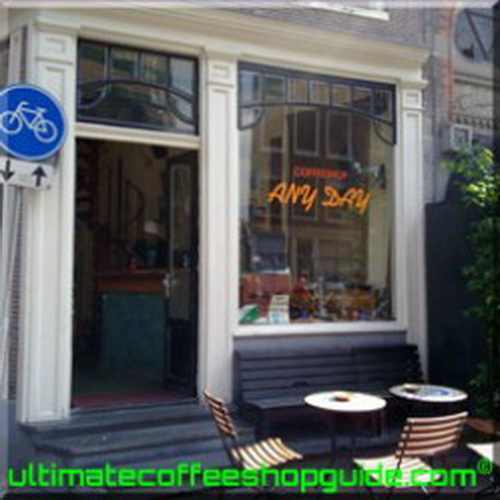 Any Day (CLOSED)
Korte Kolksteeg 5
Amsterdam
shop profile
| HOME | SMOKIN' SECTIONS | TOOLS | COMMUNITY |
| --- | --- | --- | --- |
| | | | |