Stella Blue
date
Mar 18, 2003
Origin
Sativa, Humboldt County, Bio. We were told that this was originally called Rick & Terry's Old School but that name is too damn long, eh!
Look
Compact, medium-light green, crystal covered "woven" lookin' bud (at first look and smell, this is seeming a lot like Old Toby!) Bits of orange hairs, few broader leaves left on and all of them covered with large resin crystals. This herb looks gorgeous.
Smell
The smell is even better. Super fruity! This is one of the best smelling greens of 2003 so far! A blueberry-jawbreaker scent, with tones of orange and mixed fruit. So fresh, words can't describe; people smelling this garden would think there's a candy factory in the hood.
Taste
Almost like a cleaner product crossed with grenadine syrup. It kind of burns you sweet and fruity-stylee on the way down your throat. Smoked best in a pure joint as the vapouriser was more like inhaling hot gases. Potent.
Effects
You start smiling and your eyes get trippy and very heavy. This effect is more of a buzzy, uppy high and not too heavy and "knock-out" feeling. It is very light yet steady. The FX lasts for daze. I like this for toking when you got loads of work around the house to do on a sunny Sunday. You are kinda out of it but you can still function enough to clean the bathroom.
Overall
This weed is so fresh-so clean-so good, I sent someone from the office back to get more of it! That happens about 6 times a year, so that means this is some serious shit!!!
want to review? create an account
Member reviews
other reviews from Any Day (CLOSED)
Purchased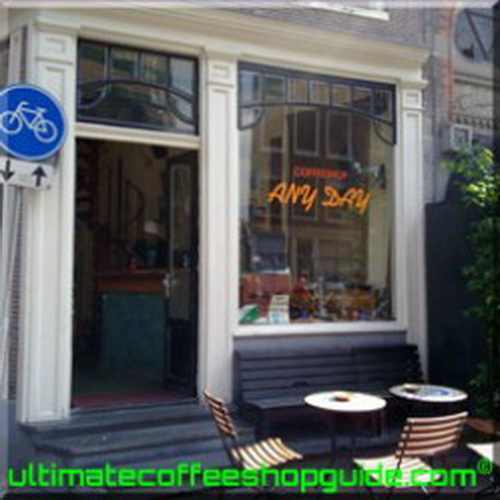 Any Day (CLOSED)
Korte Kolksteeg 5
Amsterdam
shop profile
related
Stella Blue (Smoking Bull)
| HOME | SMOKIN' SECTIONS | TOOLS | COMMUNITY |
| --- | --- | --- | --- |
| | | | |