CBD products come in various forms: from oils, gummies, suppositories, teas to chewing gums, and are produced by a plethora of companies. From high quality, small companies that care, to white labeled cheap products offered by chain stores. As with anything, you get what you pay for.
The Company
We took Calm By Wellness Vegan CBD gummies to the test. Their products are not the cheapest on the market, but we appreciate the company's approach to quality and production. Produced in Irvine, California, Calm by Wellness describes themselves as "a community of doctors, scientists, farmers, researchers, and everyday people", a style we appreciate more than that offered by pharmaceutical companies.
Packaging
The packaging is clean and appealing, and the lid is a child-proof "push down and turn". If you suffer from arthritis, and do not have kids at home, you may consider moving your gummies into air tight tupperware for painless access.
These gummies come in a medium size plastic container and contain 30 round, soft gummies, at $39.99, with discount options for multiple items, or with a subscription for further savings. Click here to learn about their product range and pricing.
Taste
We opted for the orange / hibiscus / strawberry / guava flavor following personal preference, and we wanted to test out the vegan ingredients. The individual gummies appear to have a slightly different color from each other, but the variation is not obvious enough to distinguish the flavors from one another.
At first taste, they are sweet but not in an overwhelming way. Some may find a slight bitter aftertase, almost metallic, but it is not clear whether it comes from the gummies being hemp based, or if it is the Sorbitol, or other ingredients we are not accustomed to. We split the container between 4 people, with one finding the flavor almost purfume-like, will others did not share that experience.
Overall, once you get past the aftertaste, they are quite yummy, and leave you craving more!
Ingredients
The products are made from US produced hemp, grown in Oregon, Colorado and Minnesota, using CO2 extraction methods, raw, with no toxic solvents used. The hemp is organic, and certified non-GMO; the seeds are USDA certified.
These vegan gummies are low in sugar, coming in at a low 1g from tapioca syrup and cane sugar, which any sugar-watching person will enjoy. As with any product, once you remove the sugar, you must replace it with something. In this case, Calm by Wellness uses Sorbitol - not our first choice of a sweetener, but also not the worst of options. One thing to look out for, Sorbitol can cause gastro problems, bloating flatulance and diarrhea, if taken in high doses. Start with one gummy at a time, in case you need to build up your tolerance to the 1-3 gummies as advised on the packaging.
Other ingredients used to produce these gummies include Agar and Locust Bean Gum (thickening agents used instead of non vegan gelatine), Citric Acid, Natural Flavors, Lactic Acid, Coconut Oil and Carnauba Wax for coating.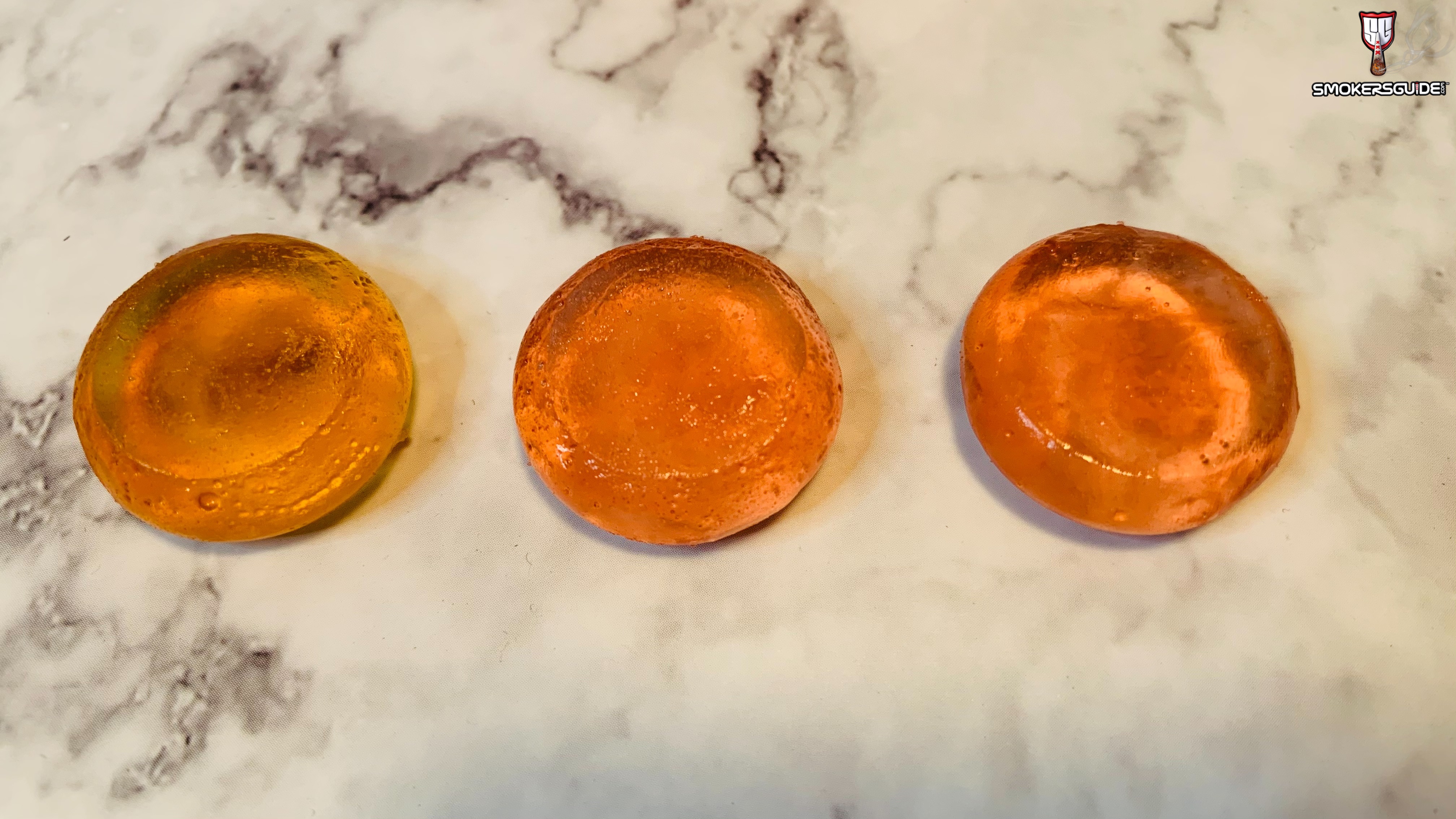 Dosage
Each gummy contains 10mg of CBD per gummy, and no THC. Calm by Wellness recommends 1-3 gummies per day for adult usage. As with any hemp or cannabis product, always start with a smaller dosage, and work your way up if you feel the need.
If you are watching your carb intake, it is important to note that the packaging lists carbohydrates in miligrams, instead of the typical grams, so in this case, each gummie comes to 0.03g of carbs, making them suitable for a low carb or keto lifestyle.
Effects
These gummies certainly have a calming effect. In fact, one of our testers took one in the morning, and decided to have a productive day of catching an early day nap. Since CBD affects people differently, you may want to start these out on a day you don't have a ot of work to complete, or at evening time to relax and get ready for a good night's sleep.
Overall, we really enjoy this product. Nice packaging, great approach by the producers, quality ingredients and yummy taste.
SmokersGuide.com disclaimer:
SmokersGuide.com takes pride in featuring high quality articles to its readers, however does not assume liability for the claims and medical facts presented by the author. Please check with your doctor or medical practitioner, before consuming any products containing CBD, THC, herbs and Smart Products, or any other products recommended here. Make sure to always check for advised dosages, and please keep all THC and CBD products (including vapes, flowers, oils, concentrates or edibles) away from children, animals and any persons who may not desire to consume them. Make sure to clearly mark all products with warnings about the contents, and store all products in locked, child-proof containers, to avoid accidental ingestion. Please check your own country's laws regarding CBD and THC, and make sure shipping is allowed. SmokersGuide.com content is always created in countries where cannabis products are legal, for medicinal and/or for recreational uses. Smokers Guide does not encourage the use of cannabis in countries where its consumption is illegal. This page may contain affiliate links that earn SmokersGuide.com comissions, with no extra cost to our readers.