Main image curtousy of DNAGenetics.com
Our resident cannabis reviewer, BushDoc, rated this strain with 4 out of 5 stars.
80% Indica : 20% Sativa
Flowering Time: 9 Weeks
Yield: 500-600g/m2
Height: Medium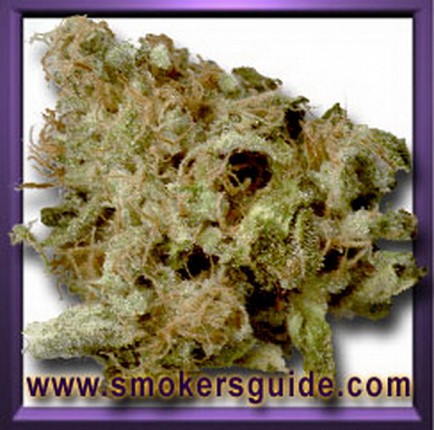 ORIGIN
Jamaican Lambsbread x with Great White Shark / DNA Genetics
LOOK
This has got to be examined under natural light to get the full impact and appreciation for this hard-core sample. You will see incredibly formed crystal glands pushing giant balls of resin to the surface. Buds almost completely light green, the hairs are really a light orange; almost resembling little neon lights! Considering the stickiness of this resinous bud, it still breaks up pretty easily, owing to its proper cure. The leaves are tiny and incredibly densely structured. The manicure as is good as it gets for this type of "white weed" with all leaves larger than 2 mm in width removed (and prolly used to make quality hash!)
SMELL
Sweet and softly gingered in scent; it smells like the weed my friend used to grow on his off-Leidseplein terrace; orange and fruity. There is also a light metallic-fuel scent that could be slightly compared to a Diesel strain that hasn't fully matured yet. This bud has been cured to perfection and the staff was giving it big kudos.
TASTE
The flavour is not really citrus and not really licorice or anisette either. What is it? I dunno; it's got a "blended flav" that doesn't lean in one direction too much. One thing is certain, this weed is so crystally that you are best off sipping an ice-coldy bevvy as you toke on this.
EFFECTS
To me the FX are very relaxing and yet still visual in effect. You feel like you are cruising along for awhile before you know you are even on a trip! You enjoy a "crisp blurriness" that makes you feel like you are slightly underwater. As I found out the hard way, this is NOT the kinda weed you wanna smoke and then go shopping with your mom; unless she has the patience of a saint! I looked at things... slowly, as she dragged me by her friend who sells antiques, but I did it inna super-dazed extra-terrestrial way. She just smiled and talked on her mobile phone as we navigated the Negen Straatjes. I just wanted something sweet to eat, a good movie and a plush sofa!
OVERALL
This gear is VERY zoney. It's potency is paralleled by it's smooth mix of tastes. I think this could be my call for a post Queen's Day come down...
This strain is currently not on the Grey Area Coffeeshop menu anymore, but you can purchase the seeds from DNA Genetics website!
SmokersGuide.com disclaimer:
SmokersGuide.com takes pride in featuring high quality articles to its readers, however does not assume liability for the claims and medical facts presented by the author. Please check with your doctor or medical practitioner, before consuming any products containing CBD, THC, herbs and Smart Products, or any other products recommended here. Make sure to always check for advised dosages, and please keep all THC and CBD products (including vapes, flowers, oils, concentrates or edibles) away from children, animals and any persons who may not desire to consume them. Make sure to clearly mark all products with warnings about the contents, and store all products in locked, child-proof containers, to avoid accidental ingestion. Please check your own country's laws regarding CBD and THC, and make sure shipping is allowed. SmokersGuide.com content is always created in countries where cannabis products are legal, for medicinal and/or for recreational uses. Smokers Guide does not encourage the use of cannabis in countries where its consumption is illegal.