Recreational Marijuana on its way to Canada!
20 June 2018
It's actually happening! The day Canada was waiting for. June 19, 2018 marks a momentous occasion on a global scale: the Canadian Senate finally passed the "Pot Bill". We can only wonder if they passed it to the left hand side? ;-)
Pass the dutchie on the left hand side
Pass the dutchie on the left hand side
It a gonna burn, give me music make me jump and prance
- Musical Youth, 1982

Can you tell we are excited?!?
With a Vote of 52 to 29 and only 2 abstentions, the Senate has passed the federal government's now infamous C-45 bill to legalize recreational cannabis, effectively ending almost a century of prohibition in Canada. It's truly history in the making, and a day every cannabis supporter in Canada will remember.
#PromiseKept
Proudly tweeted by the man who campaigned on this as a promise, Justin Trudeau wrote It's been too easy for our kids to get marijuana - and for criminals to reap the profits. Today, we change that. Our plan to legalize & regulate marijuana just passed the Senate. #PromiseKept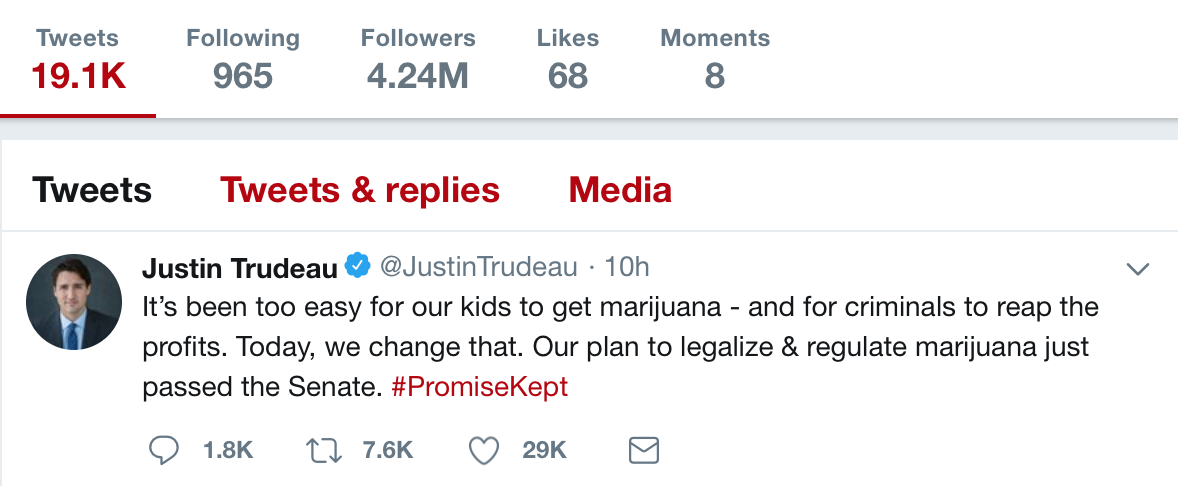 So when can we all arrive in Canada and have a legal toke?
When the actual "legal" recreational cannabis sales will start is still somewhat speculative of 8-12 weeks. This of course would fall just before the busy Christmas shopping season, and we are predicting a green Christmas in Canada this year!

Now that the rules are to be put in play, the government plans to focus on education and welfare for its citizens. Along with tackling the estimated 6 - 10 billion dollar black market currently operating across Canada.
Of the 46 amendments to the bill proposed by the Senate, 13 where rejected by the liberal government. The few significant amendments that did not pass:
1. Home cultivation in certain provinces, since Quebec, Manitoba and Nunavut are specifically interested in being able to ban their inhabitants from growing recreational marijuana, even when federally legal. A motion was moved that would have returned the bill, but senators defeated it voting 45-35 (narrowly missed that one phew).
2. Banning promotional materials and merchandise, seen as promoting cannabis amongst the youth.


3. Establishing a public registry of any individuals, employees, directors or shareholders involved in the cannabis industry. This amendment was focused on thwarting criminals from investing in Canada's new "green" industry.
Royal assent here we come, the last step in the process for legislation. That could literally happen any day, with the support of the NDP it is now up to our liberal government and Justin to make the final motions and carry us through to the new era of legal cannabis.
Congratulations Canada, and thanks Justin Trudeau! Keeping your promise will forever leave the world's cannabis community grateful.
Click here to read more about the road to Canada's cannabis legalization.
References:
https://www.cbc.ca/news/politics/senate-passes-government-pot-bill-1.4713222
https://globalnews.ca/news/4282677/pot-bill-senate-passes/
| HOME | SMOKIN' SECTIONS | TOOLS | COMMUNITY |
| --- | --- | --- | --- |
| | | | |