Main image: Photo by Vaporesso on Unsplash
One of them is that not every CBD oil is suitable for vaping. There are CBD oils for oral usage, and the ones designed specifically for vaping. That's probably the most important thing you should know, but there are many more. Below you'll find some useful things to know before vaping CBD oil.
Types of CBD Oil
As mentioned above, not every CBD oil is suitable for vaping. Oils for oral usage include MCT oil and hemp seed oil, and are therefor not to be vaped. Before you buy any product, you should look at the label to see whether you can vape it or not. Misusing the oil may result in some severe health damage.
When it comes to CBD vaping oil, there are two basic types you can choose from:
● CBD vape juice - usually sold in bottles
● CBD distillate - sold in cartridges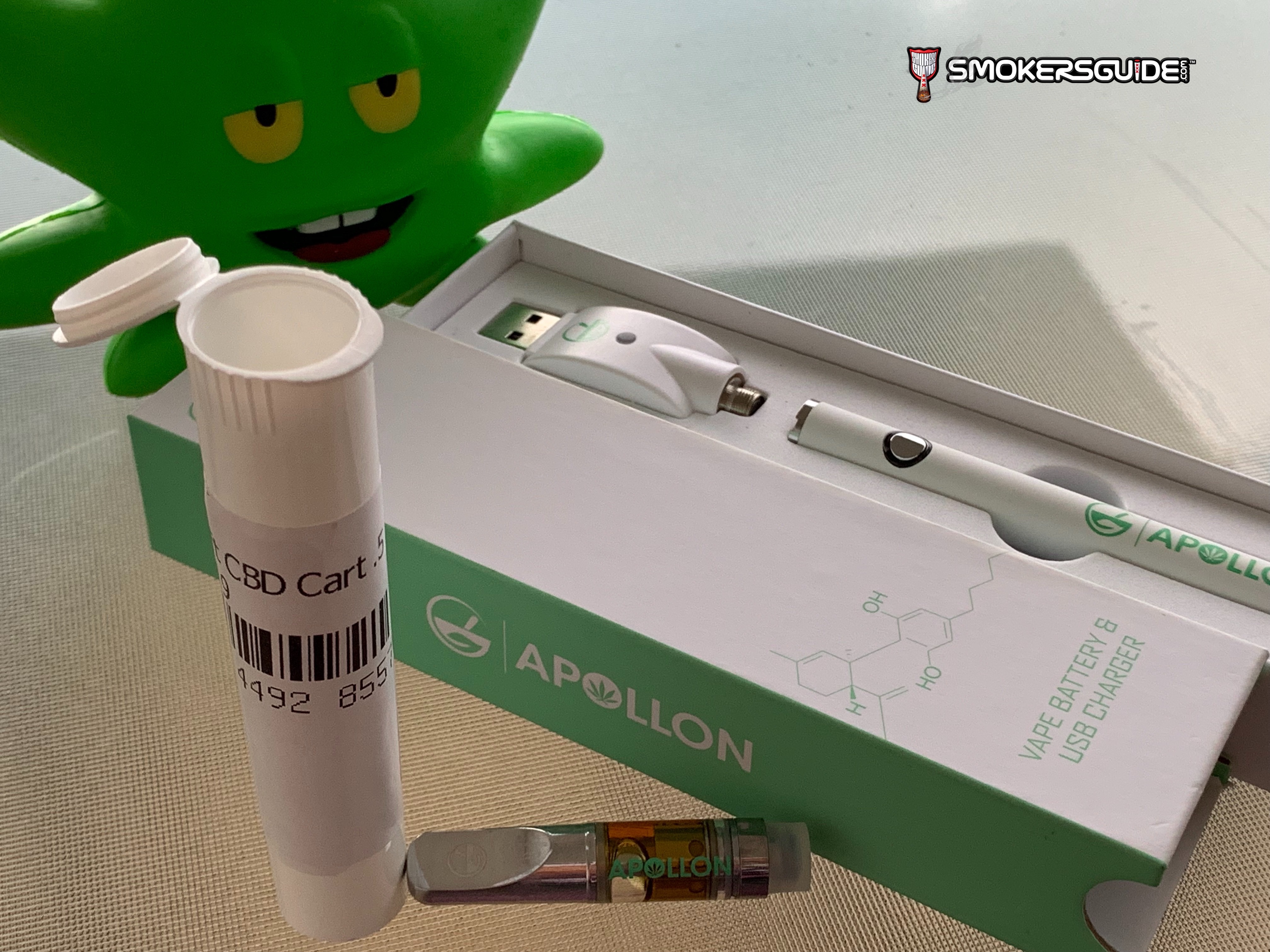 Photo: CBD vape pen and cartridge from Apollon Formularies, from Doc's Place in Jamaica
What are the main differences between them?
When it comes to CBD juice, it doesn't contain any actual oil. Instead, it should contain four ingredients: Vegetable Glycerine, Propylene Glycol, Cannabidiol (CBD), and natural or artificial flavoring. If it contains anything other than these four, it may not be suitable for vaping. That's why you should always carefully check what's on the label.
The second type, which is CBD distillate, is very similar to THC cartridges. It's a disposable e-pen tank filled with CBD e-juice. If you want more specific information on various CBD oil types, you can find multiple websites covering the topic online, e.g., thesupplementreviews.org.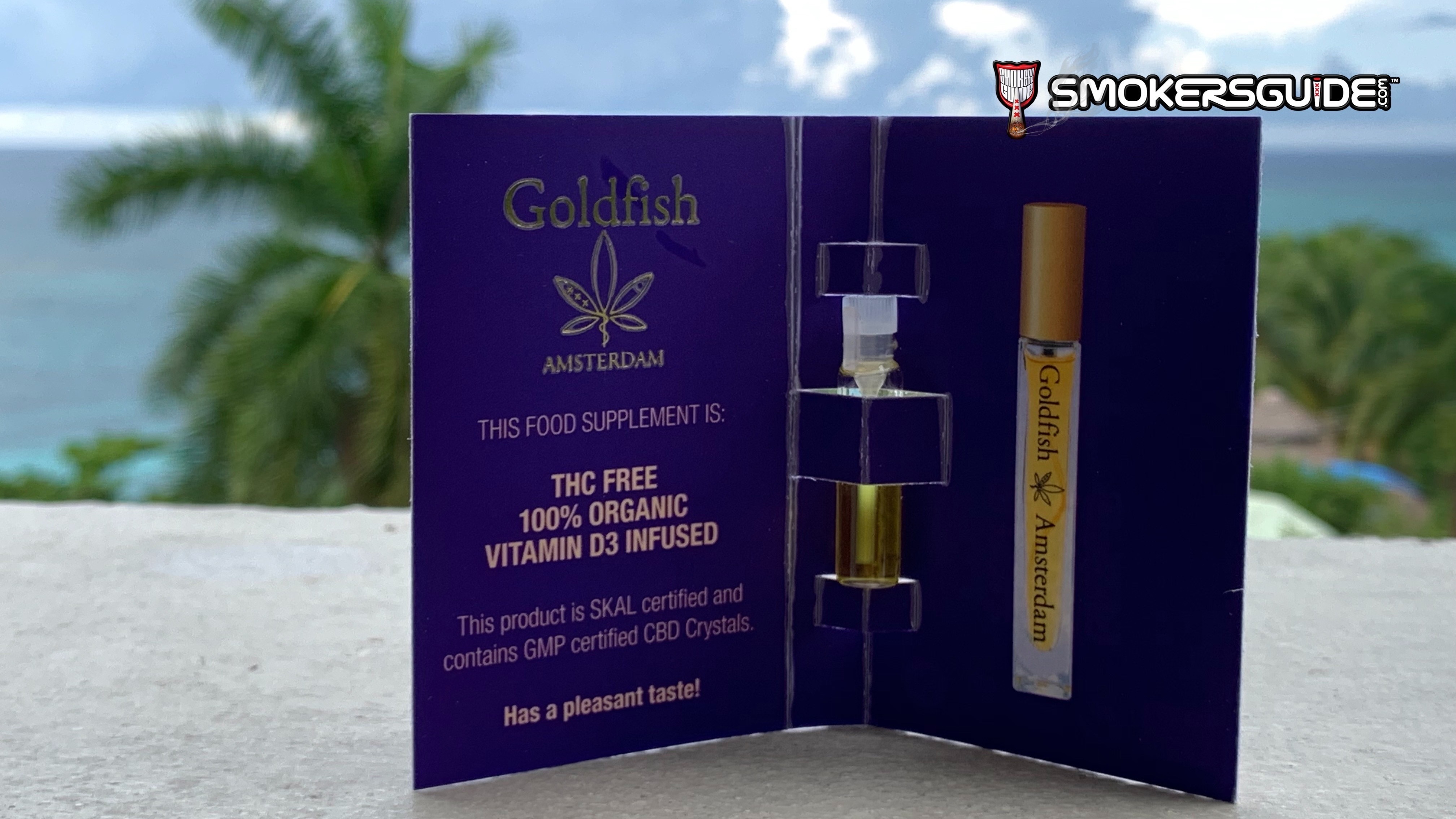 CBD oil drops from Goldfish Amsterdam
The Optimal Dosage
If you've smoked cannabis in your life, you know that the size of a dose matters. Well, it may be true when it comes to THC, but things are slightly different with CBD. In short, it all depends on the person.
The FDA doesn't have any specific set of rules that regulates how much CBD you should take. Nevertheless, it has stated that consuming CBD is generally safe. The question is: how much should you take to feel any effect?
As with any cannabis related porduct, it's best to find that out by starting with a smaller dosage and slowly increase. Usually, the CBD cartridge tank contains 100 mg of CBD and delivers you 1-2 mg per puff. Start with that, wait for 5 hours and see whether you feel anything.
If not, increase the dosage gradually until you start feeling the positive effects CBD has on you, and voila! You've found your perfect CBD dosage.
When it comes to CBD juice, things are much different. Firstly, you should check the potency of the extract in mg. Then, see what the liquid capacity of your vape tank is. Fill the container with a certain amount of juice and slowly move your way up until you feel the effects.
Photo: CBD Nano inhaler from Well-beings
Side Effects
Many people are afraid of cannabis because of the side effects they've heard about or seen in the movies. Well, when it comes to THC, some of them might be true, but what about CBD? That's a different story.
First of all, CBD won't get you high. Unlike THC, CBD doesn't have any psychoactive effects on your brain, which cause the so-called "high" effect.
Secondly, CBD affects everyone differently, but keep in mind that there are a few side effects you should know about. The most common ones are:
● Dry mouth
● Drowsiness
● Lightheadedness
Usually, you can feel them only after you overdose on CBD. You shouldn't be surprised if you notice them in yourself, especially when you use CBD for the first time. Some people experience some degree of anxiety or a racing heart after taking a too large dosage - the opposite effect of what CBD is usually meant to deliver. Pace yourself, and learn what does is right for you. It is always advised to speak to your doctor or health provider whenever starting a new supplement like CBD.
Legality
When it comes to CBD's legality, it all depends on the state and on the plant that the oil has been extracted from. The 2018 Farm Bill legalized hemp-derived CBD oil, but the one derived from marijuana classifies as a Schedule 1 drug, which means it's illegal.
Now, if you live in a state that has legalized marijuana, you can use both types of CBD oil. At least if you pass the required age restrictions.
Keep in mind that some states have certain limitations even when it comes to hemp-derived CBD oil. For example, in North Dakota, Nebraska, and Idaho, you need to have a medical prescription if you want to buy CBD.
Conclusion
CBD has many benefits, and it's getting more and more recognition around the world, even with famous "TV doctors" white labeling CBD products, to push to their audiences. There are many ways to use it, but the most popular ones are vaping, taking orally in the form of oil drops, chewing gums or even via skin care product or inhalers.
Always remember to consult your physician prior to trying a new supplement. Read labels carefully, and do your research thoroughly. Begin with small doses. Buy CBD products only from reputable sources, and you will learn that CBD is definitely worth trying out.
Read: WILL THE FDA'S CALL FOR BANNING E-CIGARETTE AFFECT CBD OIL VAPING?
References:
thesupplementreviews.org/cbd-oil
vaping360.com/learn/cbd-dosages
https://vaping360.com/learn/vaping-cbd-101/#:~:text=Studies%20have%20shown%20that%20inhaling,e%2Djuice%20style%20dropper%20bottles
https://www.nytimes.com/2019/10/16/style/self-care/cbd-oil-benefits.html
SmokersGuide.com disclaimer:
SmokersGuide.com takes pride in featuring high quality articles to its readers, however does not assume liability for the claims and medical facts presented by the author. Please check with your doctor or medical practitioner, before consuming any products containing CBD, THC, herbs and Smart Products, or any other products recommended here. Make sure to always check for advised dosages, and please keep all THC and CBD products (including vapes, flowers, oils, concentrates or edibles) away from children, animals and any persons who may not desire to consume them. Make sure to clearly mark all products with warnings about the contents, and store all products in locked, child-proof containers, to avoid accidental ingestion. Please check your own country's laws regarding CBD and THC, and make sure shipping is allowed. SmokersGuide.com content is always created in countries where cannabis products are legal, for medicinal and/or for recreational uses. Smokers Guide does not encourage the use of cannabis in countries where its consumption is illegal.