Buddha Haze
BushDoc Ranking
Buddha Haze
Review by

bushdoc

-
Purchased :
Little
shop profile
Vijzelgracht 47 kelder
Amsterdam
date
Feb 8, 2008
Origin
Haze x Thai, Bio.
Look
This gear looks a bit tame at first sight… you could think it may be for lightweights… but wait, there are a lot of crystals to be found as you crack it open and with a price as good as this, you may find yourself rolling up big fat pure joints of this without breaking your bank! The buds are large and well-developed. This looks like a winner in it's price class to me!
Smell
When you get this one broken up, there is a citral-haze smell which seems to be a bit spicy with a soft incense bouquet. When you burn it, there is an immediate scent that is released which makes you know you are gonna feel nice and high real soon. :)
Taste
The taste is a bit of the soapy-cleaner you sometimes get in a haze, with the Thai influence adding the spice and somewhat "earthy" taste of soil.
Effects
The FX are like chillin'… with a slight sharp visual edge! You can get a bit happy with the good feelings you get after a few deep tokes on this. It is not too overpowering, but still quite enjoyable, actually making it perfect for being active (like checking out the Heineken Experience down the street) without getting too tired and burned out!
Overall
The Little never disappoints me. I like the location and the atmosphere of such a tiny little "boutique" shop. Best of all, it is very easy to sample a weed like this when you are able to roll big fatties without worrying that every puff is costing you a euro!
want to review? create an account
Member reviews
other reviews from Little
Purchased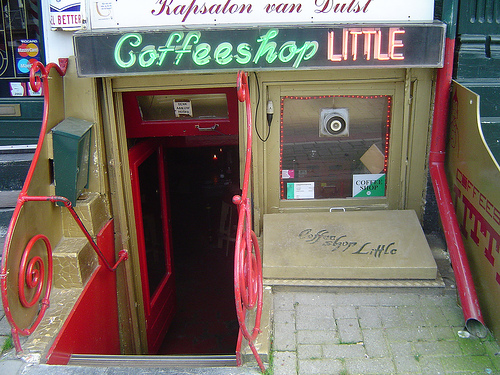 Little
Vijzelgracht 47 kelder
Amsterdam
shop profile
| HOME | SMOKIN' SECTIONS | TOOLS | COMMUNITY |
| --- | --- | --- | --- |
| | | | |