Top Thai Weed
BushDoc Ranking
Top Thai Weed
Review by

bushdoc

-
Purchased :
Little
shop profile
Vijzelgracht 47 kelder
Amsterdam
date
Oct 6, 2005
Origin
Thailand - 4gr for €10
Look
It is darker green, slightly brown weed with long narrow sword shaped leaves. It is pressed fairly flat (unlike the infamous "Buddha Thai" which is often cylinder shaped). Overall it looks "clean" for an outdoor: Very few seeds and stems and really no sign of dirt or other contaminants usually found when weed is grown and dried outdoors. Best of all, as you break it up you realise how well cured this is; not too dry or too moist. You can see tiny crystals finely covering the interior.
Smell
The smell is very light; an earthy-spice is released when you break it up. When it burns it smells even more so… I really enjoyed the softer scented smoke that floated around the room; a nice change from pungent Haze or perfumed Polms.
Taste
After the first few puffs I was pleasantly surprised that the taste was smooth and mild. Usually "standard Thai" is a bit "icky" on the tongue but that is not the case here. This is a great weed to roll in large Bob Marley cones. Slow burnin...
Effects
The feelings of a very mild high come over you quite suddenly! It "rushes" toward you like a wave crashing overhead but then slows down and gets you "gently wet". No sign of para-stonia here. Now this is a much more subtle type of high than a Haze for instance, mainly because it does not make me feel anxious. (Some people feel paranoia but I have a more uneasy, anxiety with some sort of weeds.) This seems good for FTT - first time tokers.
Overall
In my long-lost search for great Thai's, this one is right up there. It's NOT Chocolate or the dark green Buddha; it IS "standard Thai", that is anything but standard! For the price, it's certainly worth a trip out to coffeeshop The Little… on your way to the Heineken Museum perhaps?
want to review? create an account
Member reviews
other reviews from Little
Purchased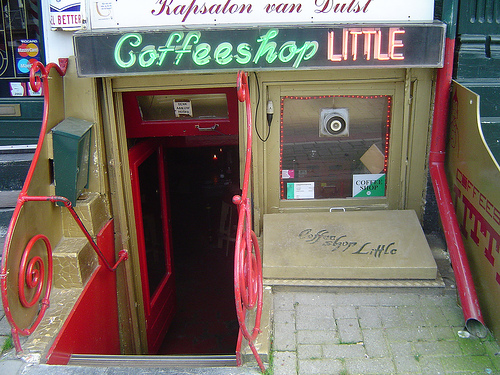 Little
Vijzelgracht 47 kelder
Amsterdam
shop profile
| HOME | SMOKIN' SECTIONS | TOOLS | COMMUNITY |
| --- | --- | --- | --- |
| | | | |