Back in 2014 on a dark night somewhere in Amsterdam... As a special treat for his viewers (and himself) Andrew Pyrah decided to make a pumpkin bong. Pumpkin pie is a good, but you can't smoke weed out of a pie; so a bong was needed!
This video somehow gained the attention of Huffington Post's Weird News writer Whitney Meers who described CannaBroadcasting's Andrew Pyrah as "a pot professional" and "the Martha Stewart of Mary Jane".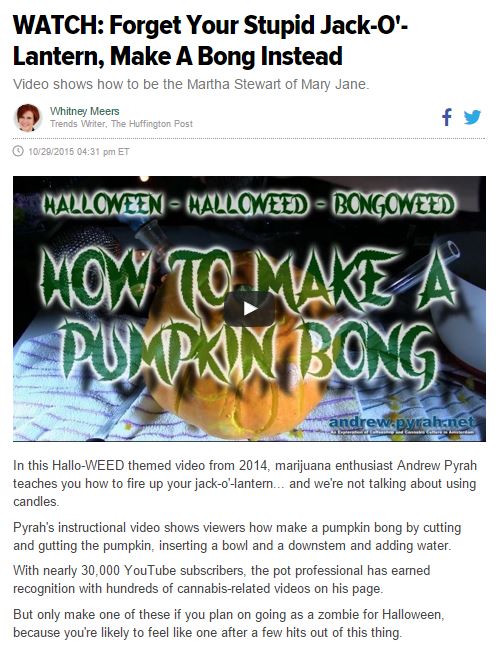 Source: http://www.huffingtonpost.com/entry/forget-your-jack-o-lantern-make-a-bong_56322563e4b0c66bae5b27ce
How To Make A Pumpkin Bong
All you need to do to make a pumpkin bong is to carve out the insides of of pumpkin, and make 2 holes in the pumpkin; 1 for the downstem and 1 for the mouthpiece. Pour some water into your pumpkin and you're good to go!
Check out the video below to find out more! You can find more videos on Andrew Pyrah's website andrew.pyrah.net
https://www.youtube.com/watch?v=MJmQfMaoUyE