UPDATE: CORONAVIRUS AFFECTED COFFEESHOPS RE-OPEN WITH LIMITS IN AMSTERDAM AND THE NETHERLANDS!!!
Only a bit earlier as Bruno Bruins, the Dutch Minister of Medical Care requested that all gatherings in public places must be limited, it became clear that places like coffeeshops would be among the numerous casualties of a mass closing. But whereas many of the other Horeca establishments were given until Monday morning to close their doors, cannabis coffeeshops were forced to close to the public by 6pm Sunday. Most owners were notified individually as late as 5:30pm, leaving a mere 30 minutes for them to make arrangements and to fend off the lengthy queues of cannabis consumers who were flocking from far and wide to purchase what would be their last weed for nearly 3 weeks!
Coffeeshop Cremers in The Hague just moments from closing

For many cannabis consumers the thought of going through some rough times like the Corona Virus quarantining without the cannabis they need for either their physical or mental wellbeing can be very frightening. With this in mind, it is easy to see why within moments of the nation-wide announcement that all coffeeshops would be closed until April 3rd had people running for their nearest shops. As the word spread (mainly by social media) lines of literally hundreds of cannabis buyers piled up in every major shop of every major city across the Netherlands. From larger cities with more shops like Amsterdam, Rotterdam and Eindhoven all the way to smaller towns like Leiden Tilburg, and Delft, people patiently waited for their turn with the budtender or cannabis consultant to hand them their 5 grams of chosen weed or hashish.
By and large our reporters indicated that the process was relatively chill and totally peaceful. Unfortunately the long queues forced people into close proximity of each other but most patrons were respectful to their fellow cannabist. It is interesting to note this in contrast with isolated reports of fighting and conflict arising from other "prepping" activity of toilet paper, water and sanitizer in other countries around the world. Most of the atmospheres were very jovial; we had Smokers Guide HighWitnesses who entered Stones Coffeeshop in De Pijp area of Amsterdam at 5:38pm and there were about 15 people queing out the door. People chatted and intermingled with one another, when a few hecklers drove by chanting "Corona! Corona! Corona!"; that was as animated as it got. Our crew happened to be among the last admitted entrance, just prior to them shutting their gates to the public at 6pm. As the gates closed, there was a sigh of relief, culminating in five measly grams of some very tasty Lemon Haze. We could have used about 5 g's of each of the menu, but the law is ridiculous. As the staff unlocked and held the door off to allow egress, there were a lot of concerned looking faces on many of the pot patrons who missed the cut off, and had to watch their only "legal" cannabis connection go dry for the immediate future.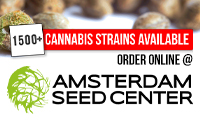 The plight of medical marijuana patients who either self-medicate without prescription (or those who have doctor's prescriptions but prefer to procure their cannabis from coffeeshops in lieu of pharmacies), is still unknown and hasn't been addressed as far as we know.
The longstanding legal limit of 5 grams per purchase, per person, per day further impinges on cannabis users' abilities to medicate in a time of crisis like this. Many patients we know, use up to 5 grams per day, or per week at least. With no way to secure the amounts needed for many serious patients with chronic or life threatening conditions, it is uncertain if cannabis sales will move from the coffeeshops to the grey market. We had reports of street dealers showing up outside of overloaded coffeeshops, boasting about their wares amd attempting to hand out their mobile numbers on simple homemade flyers. Who knows what the next month will bring but it seems fairly certain that if you love cannabis in the Netherlands, you need to consider rationing your weed and looking to friends for help in times of need.
Andersom Coffeeshop Utrecht just before closing its doors.

We would like to hear from all of you cannabis consumers out there, with regard to the Corona Virus. Are you suffering from cannabis shortages in your area? Have you witnessed cannabis product hoarding or price gouging? Please add a comment below to let us know what you are seeing where Cannabis and COVID-19 are concerned.
Keep calm and toke on...
UPDATE: CORONAVIRUS AFFECTED COFFEESHOPS RE-OPEN WITH LIMITS IN AMSTERDAM AND THE NETHERLANDS!!!