Camaradarie and knowledge sharing was the norm and the usual catty competitive nature of most events was fairly non-existent. The energy was infectious and people shared smiles and hugs at every opportunity. From the top to the bottom, the event appeared to run smoothly and everyone ranging from vendors to visitors and speakers to management seemed to really enjoy themselves. Mother Nature lended a helping hand with spectacular sun-kissed weather which made the many out of stater's nearly giddy with excitement. The area, rocked to the core by the horrible wildfires a few months earlier, needed this more than you'd think from seeing all of the smiling faces. Tim and Taylor Blake started an Emerald Cup Fire Fund to assist victims. (See link at bottom of this article) #SonomaStrong
The Sonoma County Fairgrounds is a great venue for a cannabis / medical marijuana show because it has many little areas that can be set up to have their own unique sub-atmospheres. Such examples like the Area 101 (inspired by Tim Blake's original in Laytonville, CA.) with its spacy laid back vibe, the RosinTech Solventless Experience with friends like The Soil King and the Original Nectar Colletor, or the Good Seed Hall that had cool art and all of the entries on display (or was it the Sanctuary?!?), wow, was there ever a lot to see.
From lectures on Regenerative Agriculture to discourse on how to go from the Mountain to the Boardroom, or how to be a Licensed Cannabis Cultivator in California in 2018, there was something to learn for nearly every level of canna-curious to canna-pro. There was also hands-on education in the form of the Demo Hall, where all types of extraction systems, trimming systems, cartridge fillers, rosin presses and much more were available for testing and "tire kicking" by those in the market for such high end industrial cannabis machinery.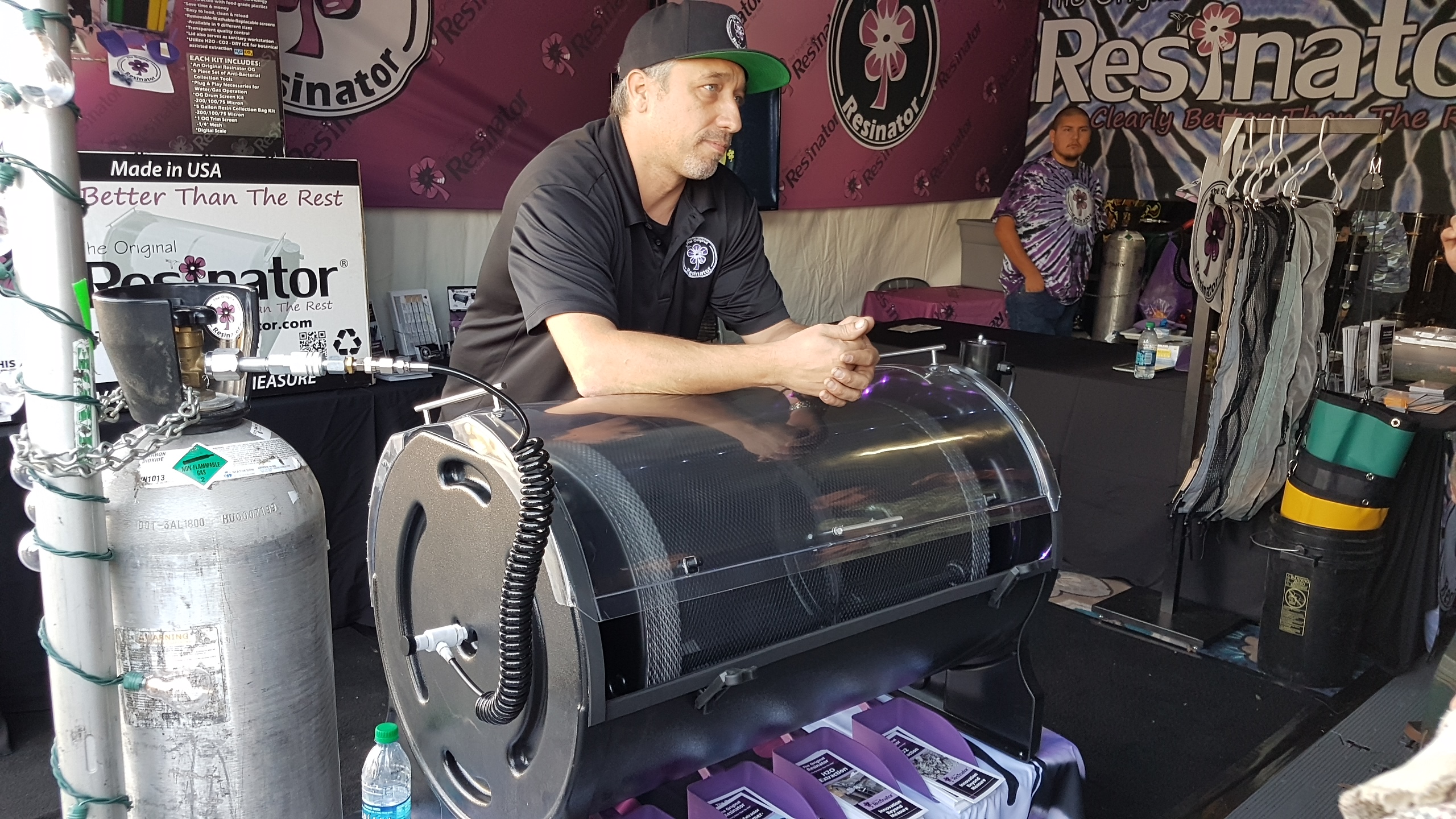 Organically derived products is the key to the Emerald Cup and this year the turnout in products was incredible. Flowers of all shapes and sizes on display for the world to see! Whether after loud packs, smaller zips or even single nugs, the marketplace was rockin. [pix of pound weed rolling, selling rose type buds]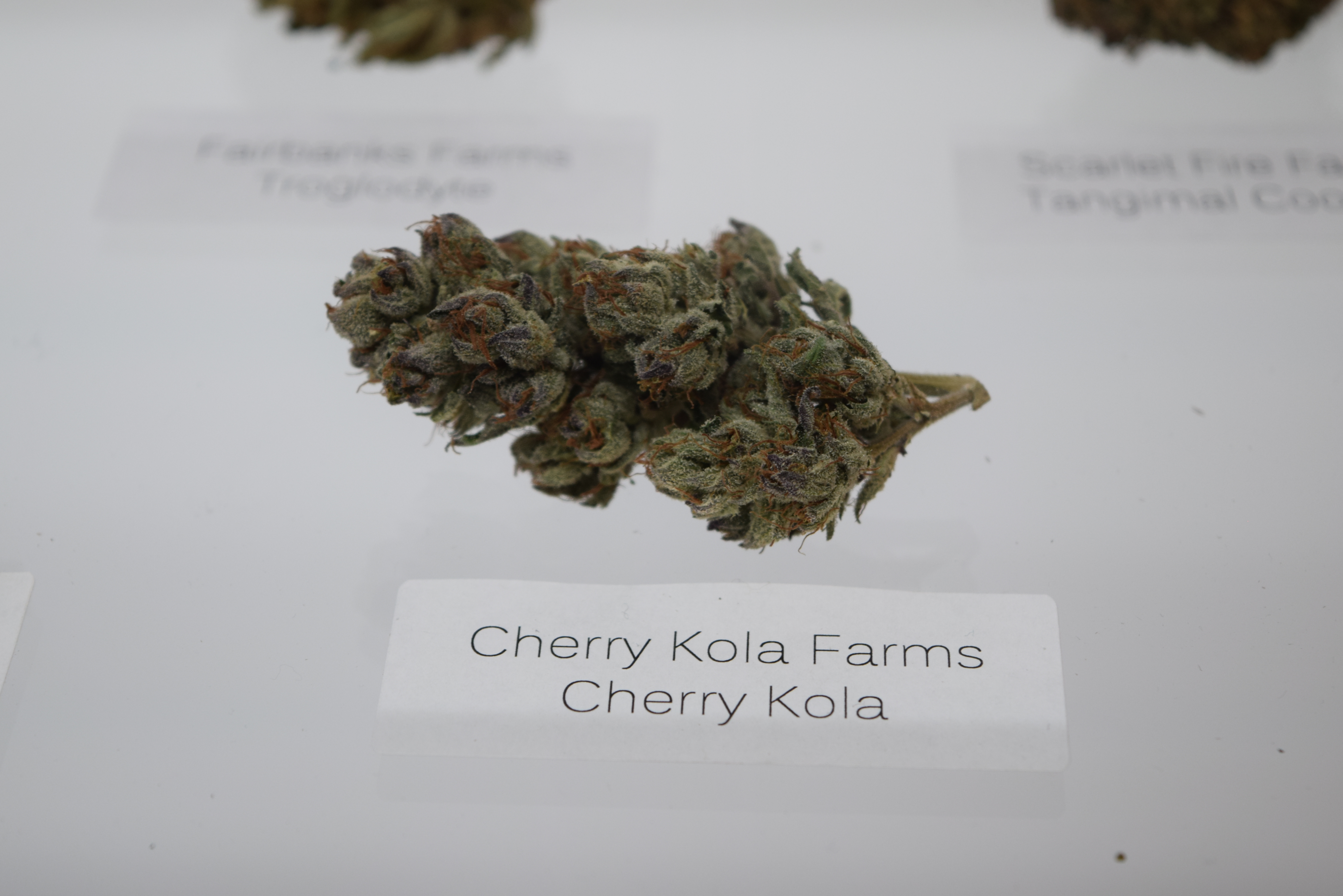 SO many great herbs were on display, it's actually indescribable. Check out the pix and vids to really get an idea. Coming on the heals of the harvest, curing and processing season, many were eager to show their wares. There was certainly a lot of bulk flower available and Turkey bags of ganj was the order of the day!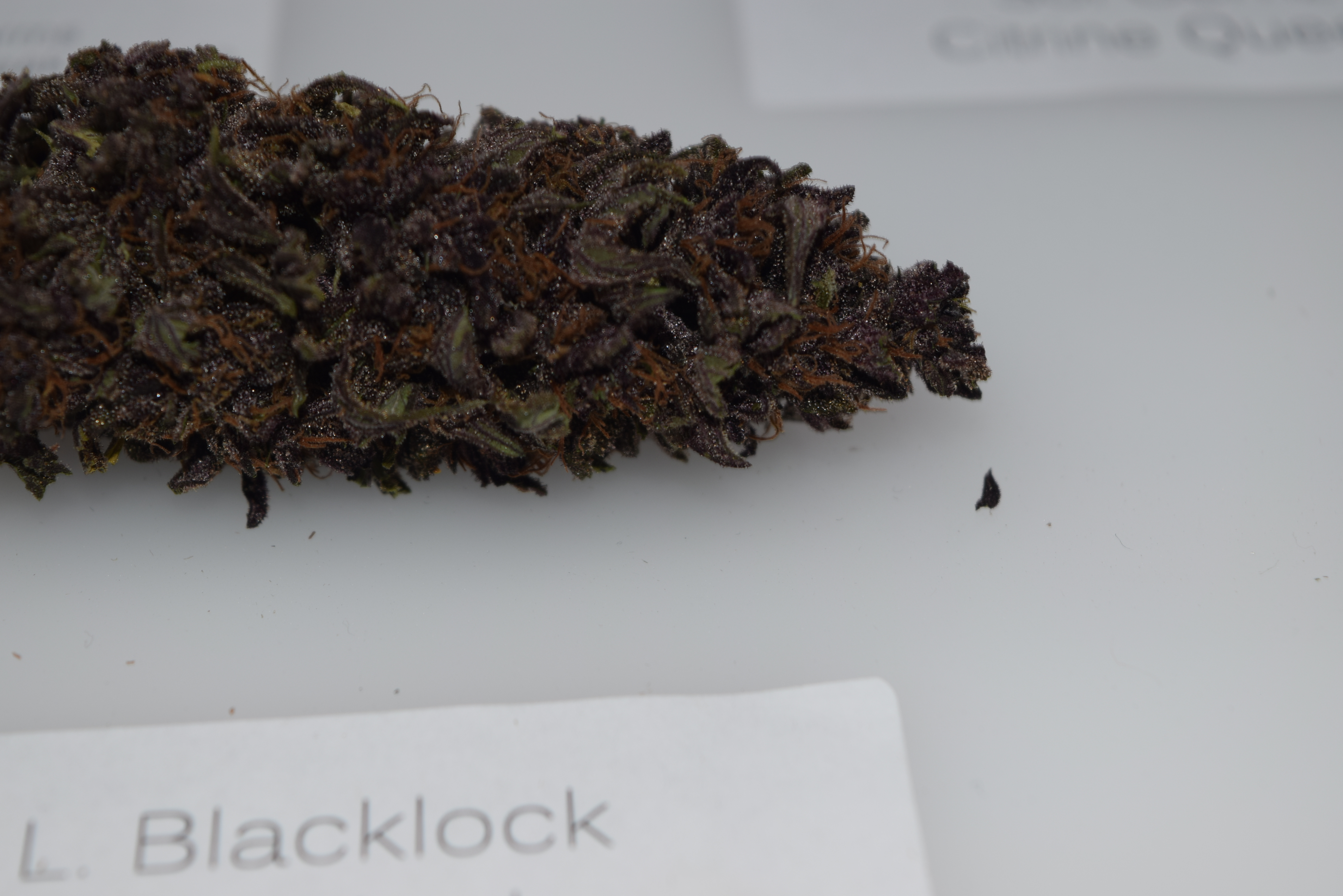 The FlavRx hall featured many top edibles and we did our best to sample as many as we could. Om Edibles, founded by Maya & Whoopi (Goldberg) had some delicious products like their StrawMary treats and their Emerald Cup 2017 winner for the CBD edibles category: CBD Mango. FlavRx had loads of addictive (as you can't eat just one, so you'd better watch the THC mg's!) different sweets, sours and taffy like candies. There was some yummy infused small batch nut butters and raw honeys from the crew from Mystery Baking.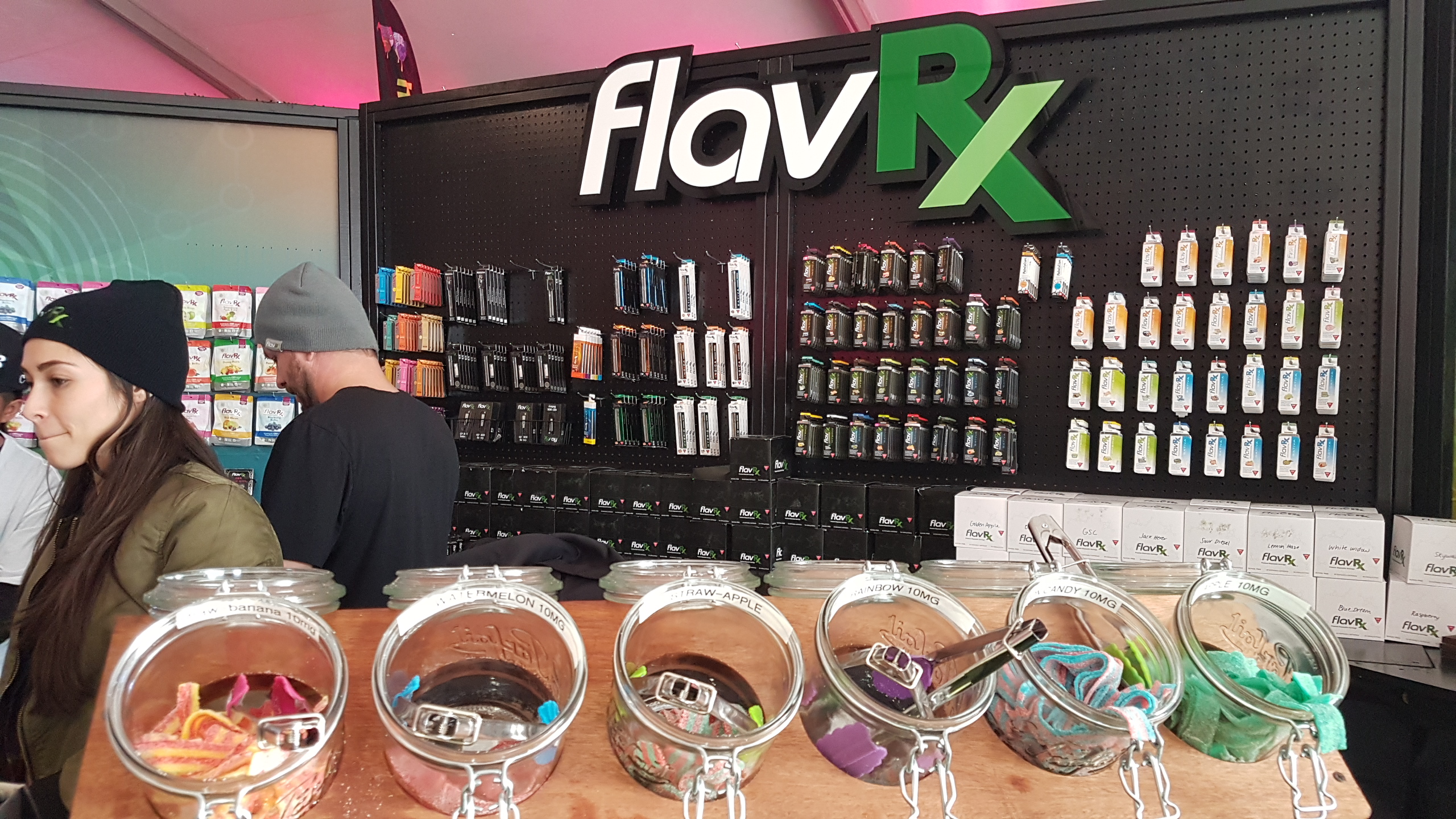 Concentrates as always were in high demand and this year's Emerald Cup didn't fail to keep us drooling! The concentrates were well represented by market leading companies showing off their talents for growing top shelf cannabis, harvesting at their peak, quality preserving, and of course master extraction. Our buds at Gold Drop really added to their hardware with at least 4 wins in the categories of distillate and general concentrates.
Some very unique categories included the Terpenes which looked at entries focused on terp profiles and isolations, and also the specific Cannabinoids sections where the latest research into the subcompounds of the cannabis plant are really being explored. The Highest THC-V winner was CA Cannabinoids' Dougs – varin x Dougie's Farm oil, and we have heard nothing but positives about that local creation.
As usual the Northern Californian contingent was well represented from the Humboldt, Mendocino and Trinity counties, aka the Emerald Triangle, but also of course from Sonoma, Napa, Alameda, Sierra, Nevada, Yuba, San Joaquin, Alameda, Santa Cruz and Monterey and many more... Naturally our neigbors to the south showed that SoCal has fire too, with counties ranging from LA, San Bernardino, San Diego and even the OC representing!
There was a noticeable contigent of Dutch-born products represented by the likes of Mila, The Hash Queen from Pollinator, Hemp Hoodlamb from our bud Adam Dunn (TH Seeds), DNA Genetics, Swerve and the Cali Connection, as well as the Greenhouse and Strainhunters crew (buzzing from their recently announced joint venture with Canopy [CGC] and Organa), who were there promoting their Powder Feeding. It's great to see the mix of nationalities attracted to the Emerald Cup. Speaking of that, we took some great hot knife dabs of Frenchy Cannoli's hand rolled Sour Tangerine hash, served up by the apprentice hash master herself, Belle.
Local favs, Swami and Nikki had a stand that was constantly packed, much like many of our friends and top quality brands who participated. It didn't make it easy for our various film crews but we were able to get some solid coverage and interviews for SmokersGuideTV; we'll be rolling out vids one after another.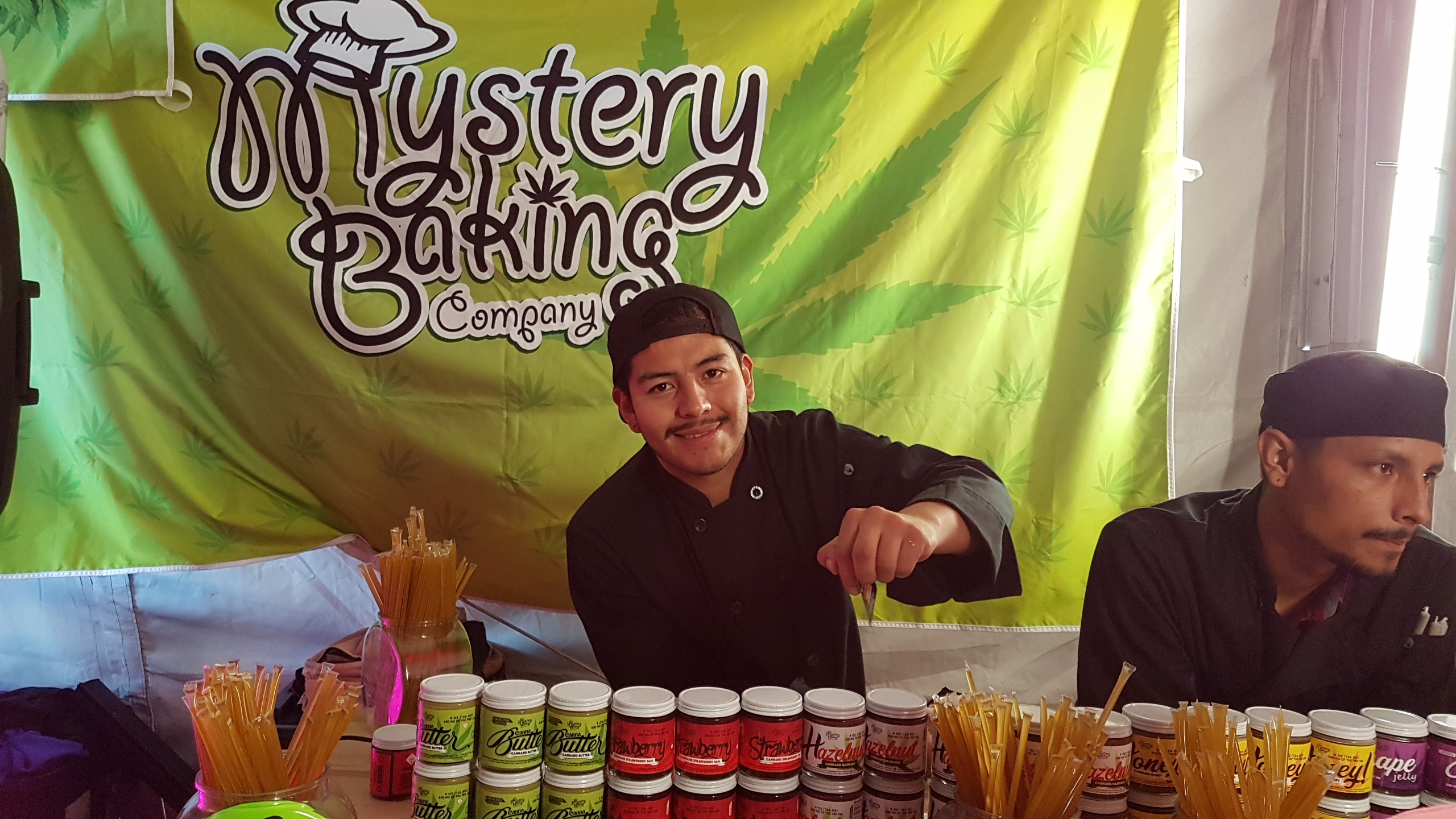 Highlights worthy of a "Stuff We Like" mention included the stand at Paradiso which had such a cool motorboat prop that had people taking funny selfies all weekend long. We also liked the Grasshopper auto-vending machine even though we didn't get a chance to really put it through the paces.
Many freebies were on offer, ranging from dabs to merchandise and assorted goodie bags. At one point the fairgrounds went mad as a helicopter flew over dropping little packages on parachutes at various points around the venue. It reached a maximum pitch as one of the rather large boxes came tumbling out and eventually landed on one of the vendor tents, out of reach of the thousands of eager recipients!

Just when you were feeling like another sample would put you in rock-a-bye mode, incredibly tantalizing smells of organic food being cooked in open flames and outdoor kitchens would waft by, calling us and many others by our tummy's in droves. The food as always was incredible. OK, yes as usual, the food prices did create a little sticker shock for many but if you compare them to prices at most major events, where you are getting GMO and processed crap for nearly the same amount, the Emerald Cup's selections were a no-brainer.
This year featured some notable differences in the amount of food and drink locations, and this helped reduce some of the the mega lines that formed in previous years. Overall, the organization was smooth and efficient, with entry moving along smoothly, access to medical referrals and little to no waiting from that point to entry into the Proposition 215, a.k.a. Medical Area. We noticed the very friendly and relaxed attitudes of the support staff around the event, with everyone really taking the time to listen to questions and do their best to sort out problems and issues The security was thorough without being "power trippers" and even the few Santa Rosa cops who patrolled the event seemed to be simply keeping the peace and not harassing anyone.
The Emerald Cup is a phenomenon. Like many major events, there is always room for improvement and with what we have seen historically from Tim, Taylor and EC crew, we know that next year will be even better in all facets!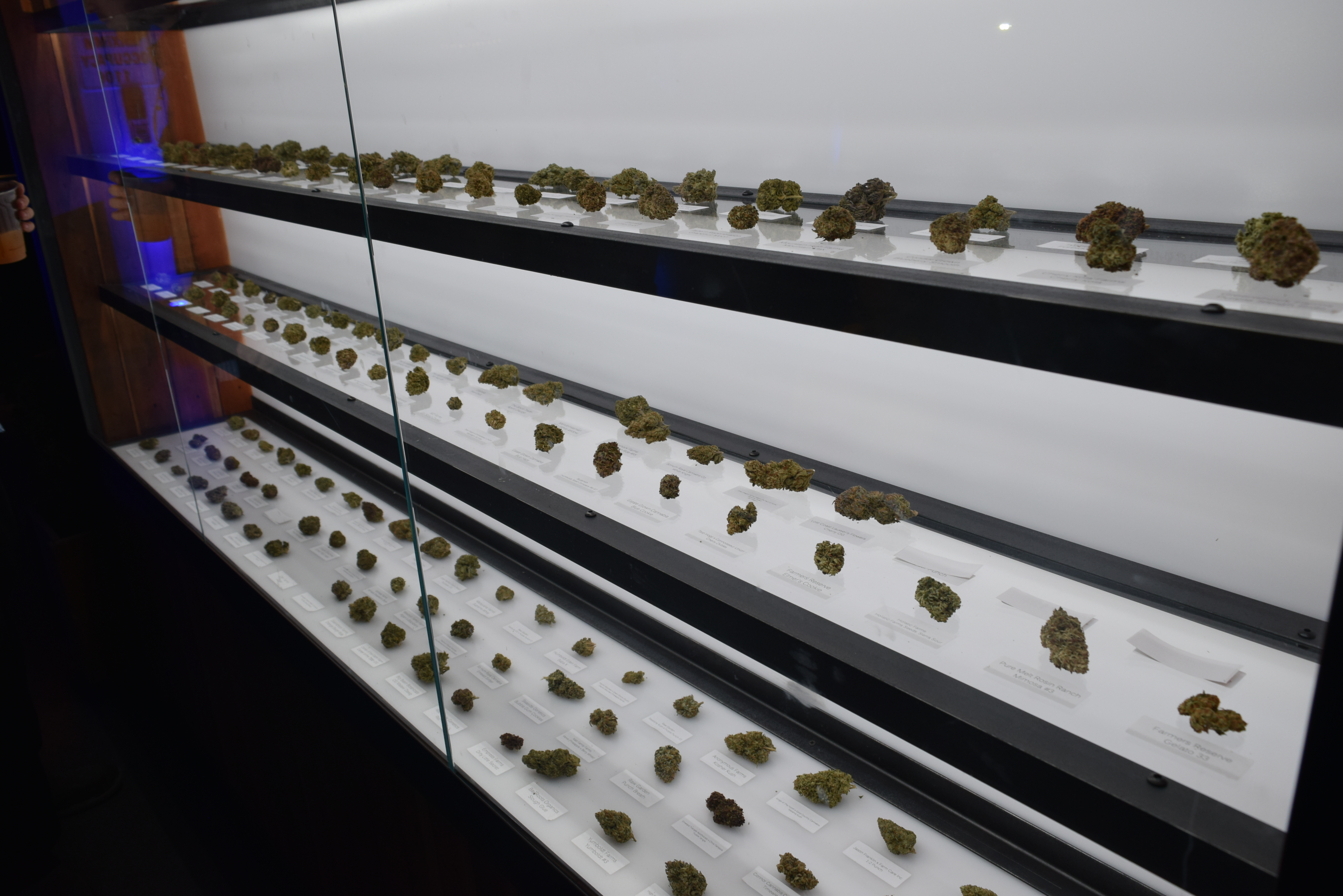 Congrats to all of the winners and the majority of participants and entries who really had some fire!!! Some of our fav's who didn't win but deserve honorable Smokers Guide mentions were: the delicious live resins like Masta OG and Sweet Nightmare from Harvest's Moon Garden and the tasty infused honey and nut butters from Mystery Baking Company. There were some incredibly desirable topicals coming from Cannaderm out of Lake Tahoe, like their THC infused Mango butter line. A must try! The high CBD content of the Sour D hash was on point. As usual, Frenchy Cannoli's hashes were also a highlight of the 215 area, looking more like fine handcrafted chocolates than hand rolled hash! We really liked the Old Toby tinctures designed to reduce anxiety, from Matthew Gordon, and his cookies were both delicious and powerful yet allowed for full functionality. Rounding out the good stuff was the precise dab tool called the Dabaratus, filled with terpene rich distillates from Organa Brands line of Bakked Products.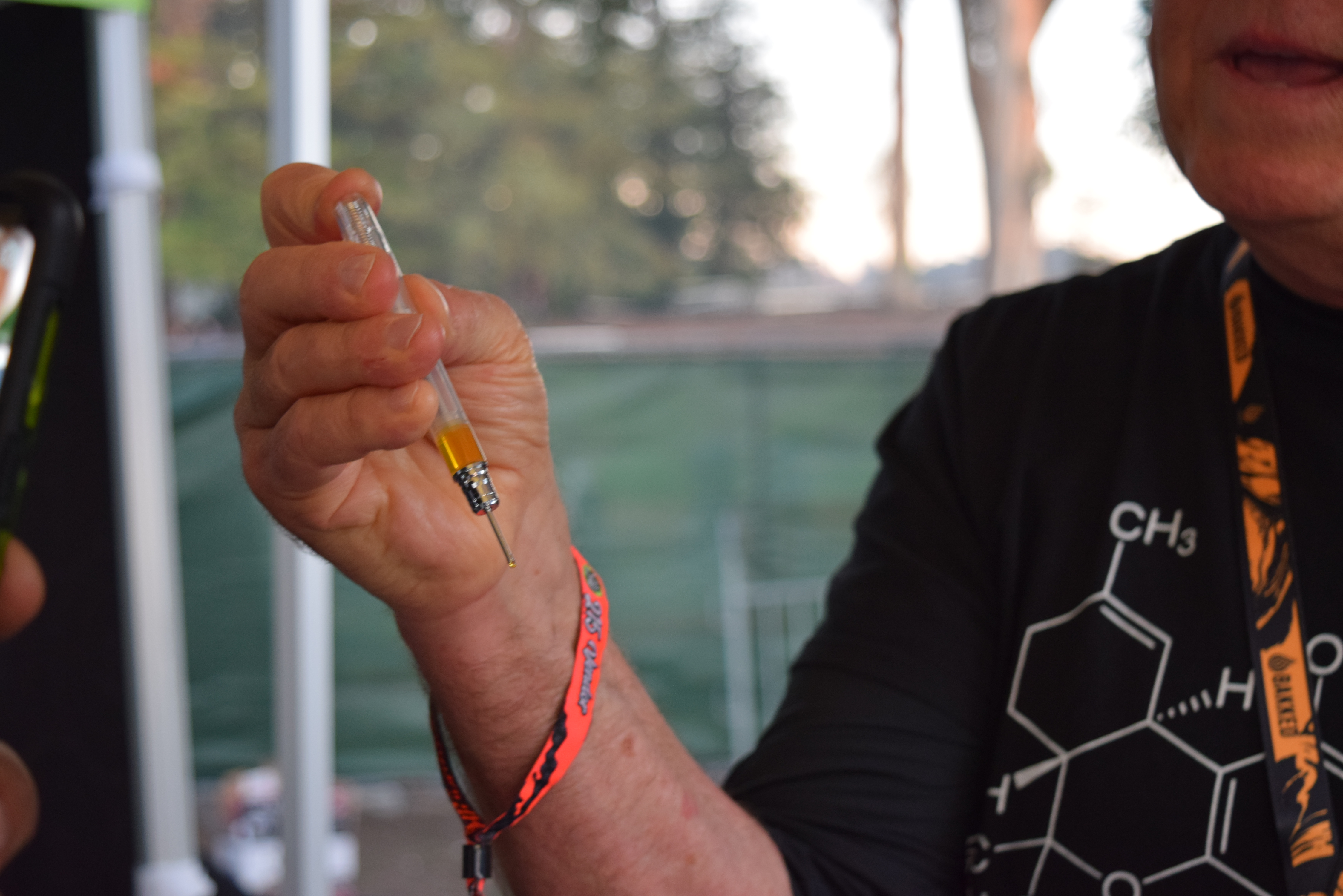 On the Tech side of things, Thompson Duke Industrial really excited us with their game changing tech for cartridge filling. Similarly, The Original Resinator looked like THE only way to go in the future, with clipping, and pre-extraction taking place in one go! Across International was there with their quality hardware, open to questions and comments. Finally, the powerful results claimed by the Magnation water treatment system, seem to be ready to start a water revolution in the cannabis cultivation ecosystem.
THINGS WE MISSED! :(
The boys at Gold Drop delivered some top notch entries but we never got a taste! There was an intriguing Blacklock entry from L. Blacklock, that looked as dark purple and black as any nuggets we seen in a long time. Seed 707 with their Jesse's Girl entry also was elektra black with more orange hairs. More samples were viewed but not smoked really teased us, such as the delectable Cherry Kola from Cherry Kola Farms. Eden Farms' collab with Karl's Select produced a lovely looking Cherry OG. We also fancied the Legion of Bloom's entry called Velvet Orange as well as their nice crafted oils in their vape pens.
Curiously, Tarhill Cannabis' entry called Pink Lemonade went missing from the display!!! Was it that good that someone ganked it? lol
The terpene category's entries sounded incredible but unfortunately nobody in the SG crew sampled any over the weekend. We did collect some various other samples from vendors around the Emerald Cup so we will be releasing reviews steadily.
The winner of the Innovative Product was the Festival Throat Spray CBD Formula by Sunnabis but we never got our hands (or mouths) on it. We're still looking for it, cos with all the talking we did, our SmokersGuide staff could use it post Emerald Cup! :)
Overall The Emerald Cup was everything you'd expect from a major market event like Northern California. All the major players were there. Many of the mom & pop and craft vendors were there too. The lectures were interesting and the demo halls were great for all interested cannabis buyers, from agriculture to ag-tech, from distribution and sales, to the latest ancillary cannabis products or services. This year you really needed to check out the map and make firm plans to hit up specific booths or seminars. The more intimate days of the Emerald Cup are long gone but this new era emanates a brilliant green beacon of light stronger and wider than ever! Can't wait to see what 2018 brings...
If you'd like to help contribute to the wonderful community of people who lost their loved ones, homes and businesses in the wild fires, please click here: https://theemeraldcup.com/charities