8.5
user rating
232 reviews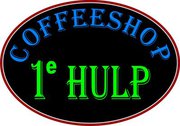 1e Hulp Coffeeshop
Marnixstraat 194
Amsterdam

Review and Rating by James Crayton
review created on :
15 Aug 16
Solid Coffeeshop outside of Dam Square

I knew of 1e Hulp as a coffeeshop in Amsterdam, having visited it at least once on every one of my trips to the Dam. Across the road from another good coffeeshop named Funky Munky, 1e Hulp has a very exotic, asian theme inside with Turkish furnishings, and lamps that give the coffeeshop a very unique feeling.

Menu is extensive, with some amazing strains including WestCoastDiesel for 13 Euros for a gram, that the budtender recommend and explained to me and it being a cross with Diesel. Fluffy buds and great smoke. I also bought two Hashes; both were 7.50 Euros each, so as a heavy tokers you could get two grams of a solid, quality hash for just 15 Euros which is a good price in the Dam.The most memorable of the two hashes was Zero Zero, some of the stickiest hash I have ever had or seen melting perfectly as you break it up for smoking. Strong headrush, with the mood of the coffeeshop really compliments your toking.

Space Muffins are exceptional, strong and quality is obvious giving me a heavy stone for a good few hours. Well worth their price.

1e Hulp offers a unique environment to enjoy your smoke, with a cigarette machine inside offering tobacco making things much easier depending on what you like to smoke. Staff are friendly and helpful,

Follow Marnixstraat along to the neon-green lights adorning the outside of 1e Hulp, across from the fire brigade station. Well worth venturing out of the tourist trap in Dam Square to find a coffeeshop run by and for local Dutch people.

Hope to visit for years to come.
review created on :
15 Aug 16

0 friends
member since : 15 Aug 2016
from :
gender :




| HOME | SMOKIN' SECTIONS | TOOLS | COMMUNITY |
| --- | --- | --- | --- |
| | | | |