Want to know how to roll a joint Dutch style? Read on...
BushDoc rolls "backwards", to have just one layer of paper around the joint. He tears the extra paper off and spares his tastebuds the extra tars and harmful substances from the burning paper. This is known as a Dutch style joint. A tip: When first learning how to roll a joint, use rolling tobacco.
Also check out - How To Roll A Cone Joint with Filter Tip - Step By Step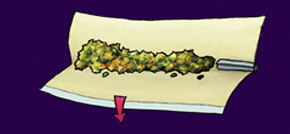 STEP 1
Lay the paper flat, with the glue strip facing DOWN. Place the tippy at the end (some prefer the right side some prefer the left) and put the herbal mixture in the crease.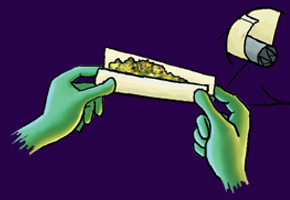 STEP 2

Pick the paper up with two hands making sure the glue is facing you. "Roll" the paper back and forth to get the herbal mixture into a smooth tube or cone shape before going any further. Once the herbs are "in line", carefully roll the glue strip down to the edge of the herbs and then tuck the paper in with your finger and begin to roll upward, pinching the paper to the tippy and rolling into a cone, ensuring that the paper isn`t creased. This is the critical moment!
STEP 3

With one layer of paper between the glue [now facing UP] and you, lick the glue through the paper, then press softly with a finger or thumb along the glued area for a good bond.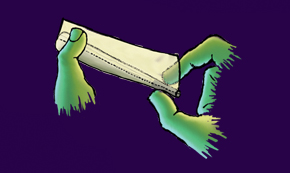 STEP 4
Now that it's sealed, you can do a little "reforming" by using your finger tips to get the right shape. Take great care not to accidentally rip the paper while it is still wet at this point.
STEP 5
Remove the excess paper by ripping it GENTLY upward along the wet glue line, making sure not to unseal the glue strip seal.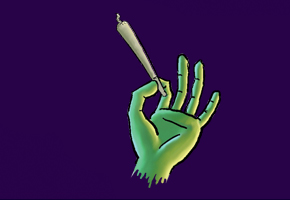 STEP 6

Responsibly enjoy a perfectly rolled Dutch Joint. :)
Now you're ready to roll like the pros!
Here's a few joint rolling videos to help you!
https://www.youtube.com/watch?v=w9wwufJ1ngk
Also check out - How To Roll A Cone Joint with Filter Tip - Step By Step
*This page may contain affiliate links. By clicking on external links, you may contribute to SmokersGuide.com earning a small commission if you make a purchase. This will not add any extra cost on your side.