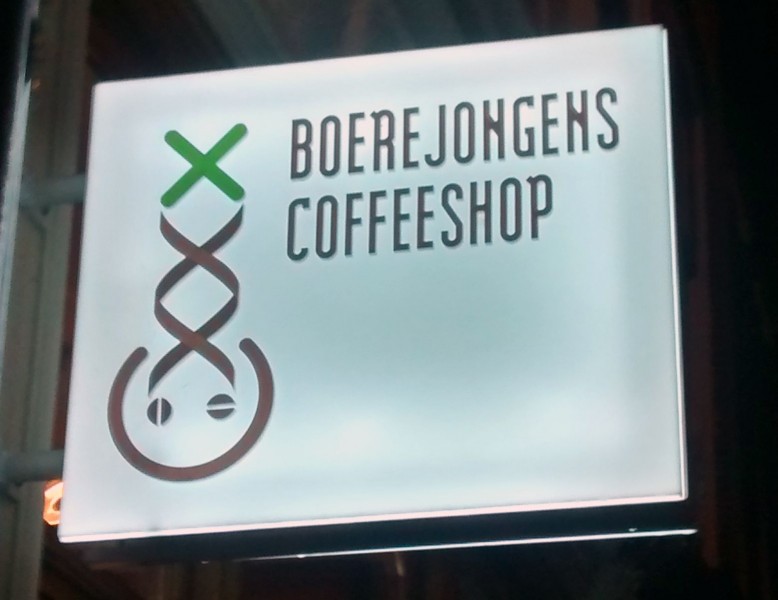 Boerejongens Center - Utrechtsestraat
amsterdamgenetics.com

Utrechtsestraat 21
1017 VH Amsterdam
tel: 020 810 0025

Boerejongens Coffeeshop Center - Previously the Stix coffeeshop.
Boerejongens (slang word for proper "BoereNjongens") means "Farmer Boys in Dutch. Pronounce it like boor-a-yungens!
Boerejongens took over the well loved Stix Coffeeshop. This centrally located Boerejongens' location aims to be the most modern coffeeshop in the city. Completely remodelled with white marble, and a modern apothecary / drugstore style.
This is the third shop run by Boerejongens, the first being the well established Boerejongens West "locals shop", and the second one, also a "local's orrientated" one, Coffeeshop Boerejongens De Bij. The fourth shop opened in 2019 is Boerejongens Coffeeshop Sloterdijk - Flagship Store.
Boerejongens has a great menu from Amsterdam Genetics, both bio and hydro, with at least 15-20 popular strains.
Have you been to Boerejongens? Sign in with your email or Facebook account and write them a review, to share your experience, recommend, or warn others! When writing reviews, you collect Smokers Guide points to get free stuff!
Take a video tour of Boerejongens Center with Smokers Guide TV:
Planning to visit Amsterdam and discover the Boerejongens coffeeshops in person? Make sure to book a hotel in advance!
open
M
T
W
T
F
S
S

07:00 - 00:45
07:00 - 00:45
07:00 - 00:45
07:00 - 00:45
07:00 - 00:45
07:00 - 00:45
07:00 - 00:45
features
420 Accessories
Juices/Non-alcoholic drinks
Smoking Paraphernelia
Feminized Seeds
Indica
Sativa

BushDoc
reviews

Tangie Block
Strain specific morrocan hashes like this are always great!
go

White Choco Block
Overall it's a gorgeous hash. It looks great it smells great it tastes great and the effects are really nice....
go

Amnesia Block Hash
https://www.youtube.com/watch?v=Y58SVStfhnA
go

White Choco
This weed is definitely a contender for this year's Cannabis Cup. It has all of the WOW factors needed to...
go

Girl Scout Choco
The perfect dessert weed!
go
https://www.facebook.com/boerejongenscoffeeshopcenter
| HOME | SMOKIN' SECTIONS | TOOLS | COMMUNITY |
| --- | --- | --- | --- |
| | | | |