The Product Earth Expo will be a creative showcase. Industry pioneers, musicians, product innovators and manufacturers, wholesalers and experts from the world of cannabis, hemp and CBD will be there. Seminars will be hosted throughout the day to educate visitors.
Artists include Foreign Beggars, Modestep, Akaka, Fliptrix, Black The Ripper, Natty,Kenny Ken, Virus Syndicate, Harry Love, Skinnyman, LRO, ATCM and many more!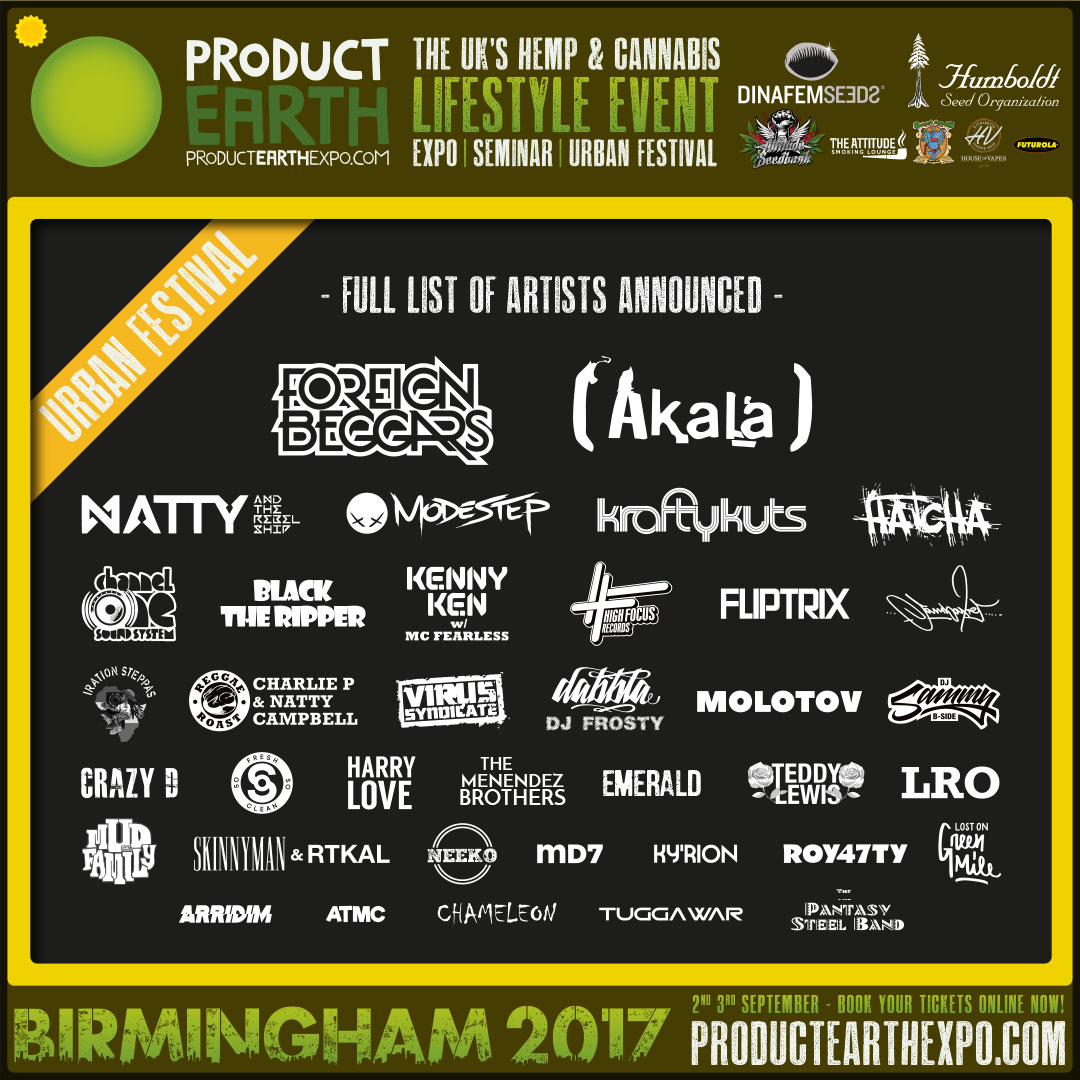 Speakers and topics include:
UNITED KINGDOM CANNABIS SOCIAL CLUB (UKCSC)
Greg de Hoedt & Stuart Harper - How to Start a Club
CALLIE BLACKWELL - THE BOY IN SEVEN BILLION
Medicinal Cannabis
UNITED PATIENTS ALLIANCE (UPA)
Clark French - Patients at Parliament
CHERRY HAZE MEDIBLES
Cannabis Nutrition and Edibles
LAW ENFORCEMENT AGAINST PROHIBITION UK (LEAP)
Neil Woods - LEAP
CANNABIS RADIO
Russ Belville - The Marijuana Agenda, Legalisation in the US
SUVER NUVER FOUNDATION, NL
Medical Cannabis Social CLubs
Now in its 3rd year, this is the UK's leading cannabis expo! After two years in Peterborough the expo to has now relocated to Birmingham. You'll find the world's best cannabis related products, activism and more at Product Earth.
Check out the Smokers Guide video from Product Earth 2016 below:
https://www.youtube.com/watch?v=h71r0GOpzug