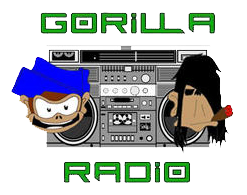 Gorilla Radio Las Vegas
4225 S Eastern Ave #5
NV 89119 Las Vegas
tel: 1 (702) 818-4400

rate this
Member rating scores
Would you return / puchase again?
Gorilla Radio is Las Vegas' premier glass shop. Local owned and operated, with over 50+ Glass artists in their selection. The selection on offer both a beginner's and cannoisseur's needs.
Authorized Dealers of: Dave Goldstein's Rooster Apparatus, Hops Glass, HvY Glass, Hitman Glass, RooR, Olympic Glass, Pyrology, Sheldon Black, Swagger Glass, Zob Glass, & Zong Glass. Gorilla Radio also supports/carries local Las Vegas glass makers and artists, DopeAss Distributors & Wicked 66.
You can also find 420 Science Jars - Grunge Off - Orange Chronic Cleaner - Herb iron - Embur - Volcano Vaporizer - Plenty - Silver Surfer - Extreme Q - Magic Flight Launch Box - Atmos Raw - Vector & Power Butane - Ultra Klean Detox - Oregon Rootz Boxes - Grassroots California - seedleSs clothing - Upperplayground. They also support local clothing line Visual Bluff.
Check out our selection of Hand pipes, Waterpipes, Ashcatchers, Slides, Stems, Domes, TI Nails, Dishes, Dabbers, Hookahs, Hookah Tobacco, Grinders, Scales, Rolling Papers, Vaporizers, Stash Jars, Stickers, and more.
open
M
T
W
T
F
S
S
11:00 AM - 9:00 PM
11:00 AM - 9:00 PM
11:00 AM - 9:00 PM
11:00 AM - 9:00 PM
11:00 AM - 9:00 PM
11:00 AM - 9:00 PM
11:00 AM - 9:00 PM
features
Artist
Glass Pipes
Hats
Rolling Papers
T-Shirts
Vaporizers
Volcano Vaporisor
Smoking Paraphernelia
Company Merchandise
Glass
Write a review
Member reviews

ojosrojos
29 Jan 20
ok, a headshop in Vegas that aint shit!
this place has good pieces and all tha shit you need for grafitti and tagging. they got some of the better glass I have seen in town. Prices are cool and the guy working there were chill and know the biz. solid.they got some dopw art in there to, so I always swing by high as hell baby!!!
Full details
| HOME | SMOKIN' SECTIONS | TOOLS | COMMUNITY |
| --- | --- | --- | --- |
| | | | |