8.5
user rating
232 reviews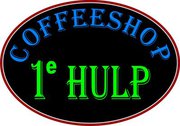 1e Hulp Coffeeshop
Marnixstraat 194
Amsterdam

Review and Rating by Nyftn
review created on :
07 Mar 15
Best shop allround

Been there a few times now , always great service . menu for all budgets and always good quality .

for medical use they always have what you need and can provide decent info what's best for you .

great atmosphere , good music , it's like the one and only for me . ok i know there are other good shops .

but this is my no1 place to be .
review created on :
07 Mar 15

0 friends
member since : 07 Mar 2015
from :
gender :




| HOME | SMOKIN' SECTIONS | TOOLS | COMMUNITY |
| --- | --- | --- | --- |
| | | | |