Purple Skunk
date
Oct 10, 2001
Origin
Sativa 75%, Skunk 25%.
Look
A deep dark purple with hints of brown and green fan leaves.
Smell
Very spicy, like cloves, with a honeysuckle scent.
Taste
The first hit is mainly allspice; then shifts to a mouth-watering sweet flavour!
Effects
This high is totally mental. Very crisp and sharp high, with a bit of a "funny people smile" etched on your face.
Overall
I really love this type of weed. Your body doesn't feel stoned til your mind remembers that you smoked! In the meantime, all kinds of wonderful funny and enlightening things occur. Cheers, funny peeps!
want to review? create an account
Member reviews
other reviews from Funny People (no longer) Coffeeshop
Purchased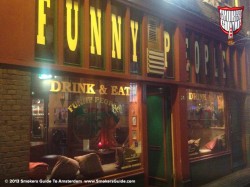 Funny People (no longer) Coffeeshop
Nieuwe Brugsteeg 24
Amsterdam
shop profile
| HOME | SMOKIN' SECTIONS | TOOLS | COMMUNITY |
| --- | --- | --- | --- |
| | | | |