"...the way to heaven..."
The Old Church's new location. This beautiful coffeeshop has a modern, clean design. Painted glass art of Bob Marely and Jimi Hendrix adorns the wall. On the menu you'll find a wide selection of pre-bagged indicas, sativas, hash and pre-rolled joints.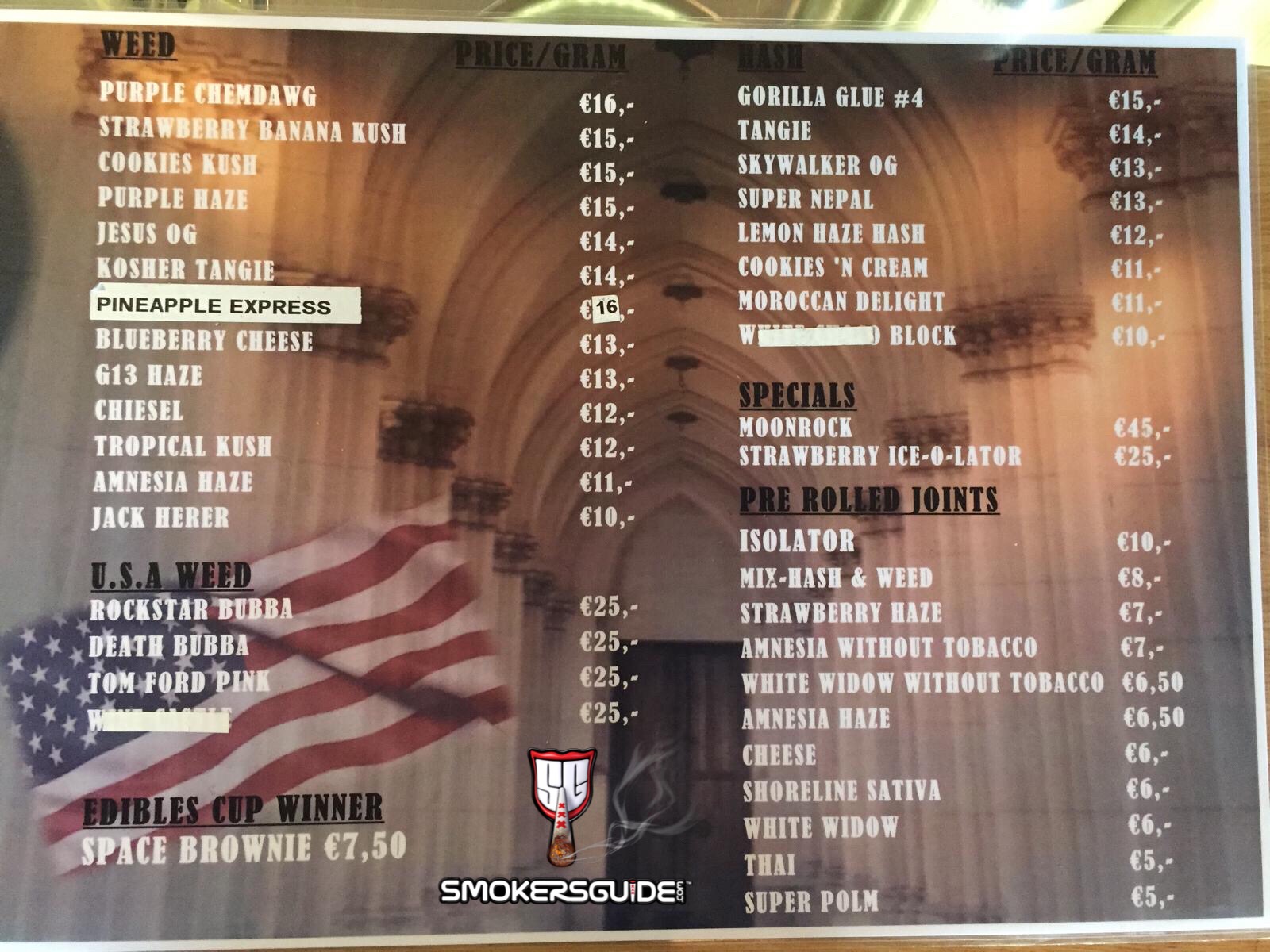 Take a look at The Old Church in our video below!
And check out Andrew Pyrah's review of the Pineapple Express from The Old Church Coffeeshop
open
M
T
W
T
F
S
S
10:00 - 01:00
10:00 - 01:00
10:00 - 01:00
10:00 - 01:00
10:00 - 01:00
10:00 - 01:00
10:00 - 01:00
features
Hashish
Juices/Non-alcoholic drinks
Pre-Rolled Joints
Ice Hash
Indica
Sativa
Write a review
Member reviews
elior20
19 Oct 18
the best coffeshop in amsterdam

Every 3 months I fly to Amsterdam and this is the only coffee shop I go. kind service. A pleasant place. And most importantly a high level weed
Full details
CannaMama
13 Oct 18
Clean, great decor and excellent location
Great little shop just off the Rokin. We had a chance to stock up on some space muffins before bording our canal cruise closeby :)
Full details
welsh oh sees
18 Jun 18
Special city speacial cafe and speacial smoke😎🤘
everytime I go each time I go this cafe always the same some the best tastiest weed I've ever smoked and seen its connoisseur quality friendly staff cool tunes I do love this cafe it's speacial!😎🤘
Full details

blue-mystic
20 Oct 15
Nice new place. worth trying out
cool small place. worth going in for at least one joint. i liked the fact that they had weed rests in a bowl the middle of all tables free to use instead of tobaco for mixing. And the space brownie there was one of the best i have ever had in amsterdam.
Full details

KushPlease
11 Aug 15
Love visiting a new place!
Hadn't heard of this place before but it got good reviews on here so thought we'd check it out. Got some of Somas So G Kush and some of their cup winning Royal Cream hash. All very tasty, the cream hash was great mixed with the So G. Staff are really friendly.
Full details

andrewpyrah
8 Jun 15
I actually went to Church...

...and they had a better weed menu than expected. :) The staff at The Old Church are very friendly, eagerly advising and recommending strains. I tried a few strains in my trips there, they have some great hash, and I have some Pineapple Express I will be reviewing at http://andrew.pyrah.net very soon! I also...
Full details
billbones1
20 Dec 14
Small but stylish
most of the bags cost 16 euro but they worked out to be some decent deals, we purchased 1.6g of amnesia haze and it smelt/ tasted amazing. also picked up two bags for 7.50 each the first was 0.8g of white widow - came in one rock hard nug good effects (would purchase again), the other was 0.9g of jack herer...
Full details
https://www.facebook.com/pg/TheOldChurchCoffeeshop/about/?ref=page_internal
| HOME | SMOKIN' SECTIONS | TOOLS | COMMUNITY |
| --- | --- | --- | --- |
| | | | |