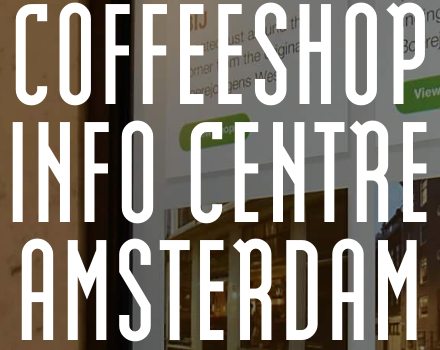 Coffeeshop Info Centre Amsterdam
www.coffeeshop-info-centre-amsterdam.com/

Prins Hendrikkade 10
1012 TK Amsterdam
tel: +31 20 304 80 66

rate this
Member rating scores
Would you return / puchase again?
Just steps away from Amsterdam Centraal train station, the Coffeeshop Info Centre is a perfect first stop to learn about Amsterdam coffeeshops, and to pick up a copy of the Smokers Guide book!
Check out the giant touchscreens to find a veriety of Amsterdam coffeeshops. Take a sneak peek into some of the finest, and see what's happening live! Chat with some experieced locals, who will guide you by offering personalized advise.

Smoking Gear, Seeds & Tours - Get your quality smoking gear, marijuana-based products, bikes, and tours.

Smoker's Inside Information - Get pro tips and explore Dutch smoker culture at our all-new stylish venue.
Take a virtual tour with Smokers Guide TV to discover what Coffeeshop Info Centre has to offer
open
M
T
W
T
F
S
S
11:00 - 18:00
11:00 - 18:00
11:00 - 18:00
11:00 - 18:00
11:00 - 18:00
11:00 - 18:00
11:00 - 18:00
features
Dutch Info
Books
Party Info
Smokers Guide books
Company Merchandise
Write a review
Member reviews
CannaMama
17 May 19
Great little info shop
The staff is helpful and lovely, and the shop is very pretty and modern. The touchscreens are really cool! Great location to drop into, and to pick up some seeds and merchandise on the way to the station.
Full details
www.facebook.com/coffeeshopinformationcentre/?__tn__=kC-R&eid=ARBrlnp8W9-95HONgGVG6oafeQPK7AvTmJo9E1UpOHmPNZujC2u661hwk4KQe7hx5FcdONri9f7nN3Ge&hc_ref=ARS_6gBdG_-D0BI6Jrt_xtmlsiHx7AhNq3C_o1Lf9NwW09YrhQTqXf19zv9haTtcFto&fref=tag&__xts__[0]=68.ARAFoaKKuG2o4pEXZsWiY1tmG2LFbIdnGaZgdSx_jUY0iuoG2-TPqbFdQXrK7ZHFwaRoBHxleRfFVMlepttSRIC31BUDZyrIo3REal2ZJjSRuokO1Vo4MUc2-KATULatLON2V_rM7KQ1dE8ATxozzUc-LmsHAQC91PHSOI-GPRKlSXrJWx7LFul5balUcJ9KJ4oKLUDcp6R7mVhKf89sH4rgWaB_QJBTh8wk_F7h-qsXJhwWnyK5THhi31iJZ3fNQcJ6pegzksbhw4oTmXkaj7vY9M4upUkQPsyTHognuwCbMpOhNRcXS3LwFawjArzyKgXQQPIxbXbxdFgRXE32CTeeqKKwunZQ8AluuFrYuPicAcO6_0TWBciT8zAoC5ypOcrupnHqgME_VnDp_cqbLnBXbTlIJFpI5hIzkie3KLzYNBg_N0GPzNWlsiPUTDz8HqEkTEwZ6L4O5GzOzh7Vb_HQ-pnhGOyf_xeqy2inJKhyZnt_t9_SrG4rjUrWzuNM0ZX16t4MJsd95C_YI1Xc1ji0Ao_O5cN400_xvghSzoIEraWCnfFTYSVRz6aGtC35zlwp6krbQvYlbxU6
| HOME | SMOKIN' SECTIONS | TOOLS | COMMUNITY |
| --- | --- | --- | --- |
| | | | |