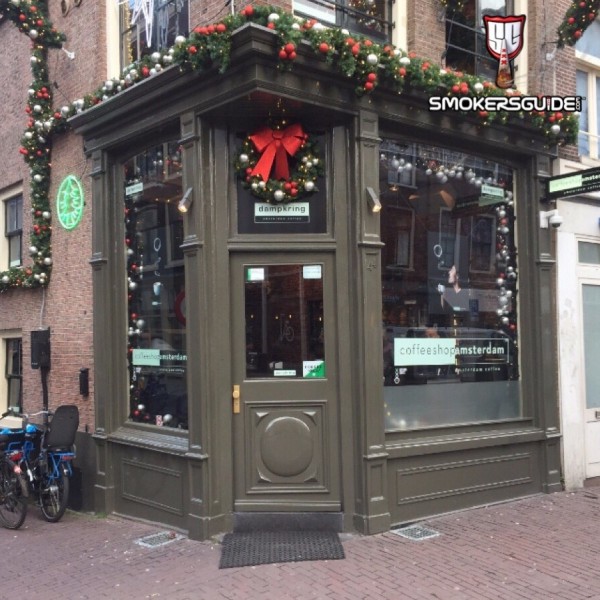 Coffeeshopamsterdam
www.coffeeshopamsterdam.com

Haarlemmerstraat 44
1013 ES Amsterdam
tel: 0031 20 427 67 39

Coffeeshopamsterdam is previously known as dampkring Haarlemmerstraat. It's a multi-floored coffeeshop with a modern design and a large menu. Coffeeshopamsterdam is located on the famous "High Street" - the Haarlemmerstraat. Here you will find many of Holland's world famous coffeeshops.
The dampkring was founded in 1993 by Jeroen and Paul; it quickly gained international fame when the American blockbuster Ocean's Twelve was filmed inside the coffeeshop.
Jeroen and Paul are also the founders of one of the oldest coffeeshops of Amsterdam: Tweede Kamer Coffeeshop. Its a small coffeeshop in the city centre with mostly local visitors. Its also well known throughout the Netherlands. Jeroen left the business in 2001. Paul opened a second dampkring in 2007 on the location of Haarlemmerstraat. In 2011 he sold both of the dampkring's. In 2016 Paul returned as co-owner again of the dampkring Haarlemmerstraat 44. To end the confusion between two dampkring coffeeshops, it was decided in August 2017 to add an extra name for the Haarlemmerstraat.
Located just a stones throw away from Central Station with 90 seats and a stylish decorated interior. This is the perfect spot with your friends or alone to ease your mind and just enjoy! We also have bongs and vaporisers available!!
When you are done picking out your favorite weed, make sure to visit the sister shop coffeeshopamsterdam Cafe, where you can have a beer or other drink, while enjoying a beautiful canal view with your purchase. Check out the video below to do a virtual walk through from the HighStreet, from coffeeshopamsterdam, just a few hundred meters down to coffeeshopamsterdam Cafe:
Check out the Coffeeshopamsterdam cannabis menu featured in Amsterdam Coffeeshop Menus Fall 2018. Mistakenly labeled Boerejongens, but both menus feature genetics from Amsterdam Genetics, hence our stoner mistake ;-)
Your contribution counts!
If you would like to read or write reviews for coffeeshops, bars and restaurants mentioned on our site, click on their highlighted names to learn more. Remember that all coffeeshops require proof that you are at least 18+, and expect a high level of personal culture. Read more on Coffeeshop Etiquette here, and remember that visiting Amsterdam coffeeshops is a privilege, and you should only indulge in a responsible manner.
Disclaimer
The Smokers Guide does not condone the use of controlled substances in countries where it is illegal to do so. This website (and Smokers Guide Amsterdam book) is for information and education on the progressive system here in the Netherlands. Please respect your countries own laws, and remember that you may not travel with any products containing THC.
If you are looking to learn more about medical and recreational cannabis in Canada, click here to buy Smokers Guide Canada books online.
open
M
T
W
T
F
S
S
8:00 -1:00
8:00 -1:00
8:00 -1:00
8:00 -1:00
8:00 -1:00
8:00 -1:00
8:00 -1:00
features
Designated Smoking Room
Free Wifi
Hashish
Ice-O-Lator
Juices/Non-alcoholic drinks
Multiple Floors
Snack Menu
Drinks and Snacks
Smoking Paraphernelia
Company Merchandise
Open till Late
Opens Early
Write a review
Member reviews
paul
8 Mar 19
Mark SG
11 Sep 18
Quality Silver Haze!





Silver Haze review: The bud looks beautiful and has a really nice smell! It's smokes really smooth and has a wonderful hazey bouquet. The effect kicks in pretty fast and gives me the wonderful uplifting feeling! Price point of this Haze is really good when you look at the quality you get. The...
Full details
ajaxpjus
12 Jul 17
Superb
Not too far from Centraal Station, the range of strains provided here are superb. As well as a cool place over 2 floors, I love spending time here and the Super Silver Haze, in my opinion, is the best Ive smoked in Amsterdam. The staff are knowledgable, but dont expect your drink orders to arrive quickly-...
Full details
CAS
22 Feb 17
UNIQUE COFFEESHOP IN AMSTERDAM
Never seen anything like this place, its great and cool and hip! tv-screens in the wall with spacy video's being played, great choise to smoke, and lot of different beverages and something to eat as well. you can hang out here for quite some time if you want to. Gotta check it out! ;o)
Full details
NOL
22 Feb 17
Great Coffeeshop and Good Weed
Defo one of my favorite coffeeshops in Amsterdam at the moment. The interieur looks amazing and there is always a good vibe. Staff is friendly and the music is not too loud. good for chilling solo of meeting up with mates, enough space to sit with more than one friend. Love the manilla hash. Check it...
Full details
Baker
15 Feb 17
Cool Coffeeshop
This coffeeshop is one of the nicest looking shops in Amsterdam. Lost of paces to sit and the smoking menu is amazing! Great quality and huge variety of choice. Prices are reasonable and the staff is very friendly...Will definately be back to chill out in one of the best coffeeshops of Amsterdam.....
Full details
ohmpi
8 Feb 17
Gotta love this place !
Probably one of the very best coffeeshops in the Dam and far beyond ! Man , what a selection ! Great decor , friendly and helpfull staff and relaxed music ! They have a totally new range of products called blocks , grown organicly in Morocco out of dutch hashplant genetics . Darkblond oily hashish with a...
Full details
Mizar
28 Jan 16
Great Coffeeshop, Decent Bud and Good prices
Very nice coffeeshop, Good Bud Tender which took the time to answer my question's, Showed me some different trains and let me have a good look and smell. The Bags were a good size, nice and buddy, it was taken off a nice top head bud (unlike barneys). The table service was really good aswell, always checking...
Full details
Noa
30 Nov 14
Rude staff for the third time. BIG NO GO
I visited this Dampkring in the Haarlemmerstraat a few times before and during the cannabis cup. Everytime there were unplesent staff members. For the first time, there were 3 customers at one of the staff members and the other one was free. After aproaching the one that just stand there, he looked at...
Full details
Ataliano
24 Dec 13
Nice idea, horrible staff
I've been here twice and both times the experience was similar. At this coffeeshop expect to be asked for the ID card, nothing to worry about but this is the first tip about how this coffeeshop works. It's modern and everything looks crazy, plenty of TV's at the walls and two floors. The staff was horrible...
Full details
www.facebook.com/Dampkring.Coffeeshop.Amsterdam
| HOME | SMOKIN' SECTIONS | TOOLS | COMMUNITY |
| --- | --- | --- | --- |
| | | | |